Add to Cookbook

Raspberry, rhubarb and rosewater jam
15 minutes
15-20 minutes
8x 350 gram jars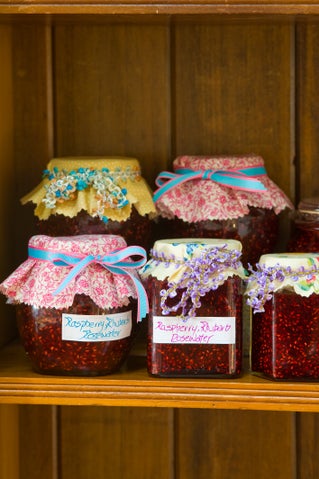 Sensual rosewater adds an exotic nuance to this summer jam, prepared from Dot's fleshy, sweet raspberries. Gorgeous served in small, sweet pastry-baked tarts and accompanied with softly whipped cream.
Ingredients
1 kilogram raspberries, fresh or frozen
250 grams rhubarb, trimmed and finely sliced
3 tablespoons lemon juice
1.25 kilograms sugar
2 tablespoons rosewater
Method
Put the raspberries, rhubarb and lemon juice into a large stock pot or jam pan and bring slowly to the boil.
Once the fruit is boiling, lower the heat and cook for 5 minutes or until the rhubarb is soft.
Gradually stir in the sugar and continue to stir until the sugar has dissolved. Bring to the boil, stirring only occasionally, and boil for 7-10 minutes or until the jam reaches a setting point.
Remove from the heat and, using a wide, flat spoon, carefully skim off any scum that has collected around the edges. Allow the jam to sit for 10 minutes before stirring in the rosewater. Bottle the jam while it is still very hot in hot, dry, sterilised jars. Seal with cellophane jam covers while hot or, if covering with lids, seal when cold.
Cooks Tips
- All jams have to reach a setting point if you wish them to have a thick, not runny, consistency. This also means the jams have boiled sufficiently to be "preserved" and not go off during storage. To know when a jam has reached setting point, follow these basic steps: 1. Put a saucer in the fridge once the jam begins to boil. 2. When 10 minutes of boiling time is up, remove the jam from the heat (so it does not continue to boil) and drop half a teaspoonful onto a cold saucer. 3. Stand for 30 seconds. 4. Hold the plate to eye level and push the jam with your index finger. If you see wrinkles in the surface, the jam is ready to be bottled. If the jam is not ready, return it to the boil and test again after 5 minutes of additional cooking time.