Add to Cookbook

Quince and Pistachio Nut Chutney
20 minutes
45-60 minutes
Makes 4 x 350 ml jars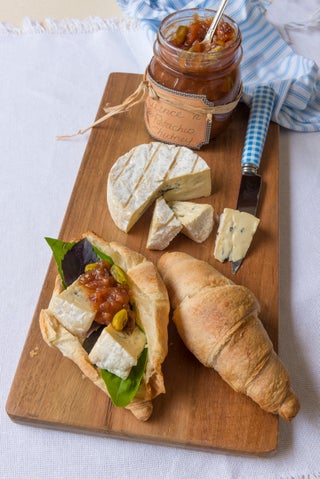 Quinces must be cooked and their intense floral bouquet remains strong even when cooked with savoury ingredients as in this delicious chutney; ideal to have with ham, lamb, cheese, duck and beef.
Ingredients
1 kilogram quinces
2 onions, peeled and chopped
1 cup chopped dried dates
1 tablespoon grated fresh ginger
1/2 - 1 teasoon chilli flakes (or use 1/4 teaspoon ground chilli)
2 oranges
3 cups cider or white wine vinegar
1 1/2 cups sugar - white or brown
1/2 cup pistachio nuts
Method
Peel, core and cut the quinces into 1cm dice. Place in a large saucepan or small preserving pan with the onions, dates, fresh ginger and chilli flakes.
Grate the rind from the oranges and add to the pan. Cut away the thick white pith and discard. Dice the orange flesh and add to the pan with the vinegar and sugar.
Place over a low to moderate heat and stir regularly until the sugar has dissolved. Bring to the boil and boil at a steady rate, stirring regularly until the chutney is thick and the quince is well softened. Stir in the pistachio nuts.
Bottle into hot, dry jars and seal. Label with name and date. Allow the chutney to sit for about 4 weeks before opening to use as this allows time for the flavours to marry.
Cooks Tips
Apples can be used in place of quinces.
Distilled vinegar and malt vinegar can be used, though they make chutneys, relishes and sauces with a much sharper and harsher note, that catches you in the back of the throat! Great for pickled onions, but not for this chutney.