Add to Cookbook

Quick Blackberry Chutney
10 minutes
40 minutes
Makes 3x 250ml jars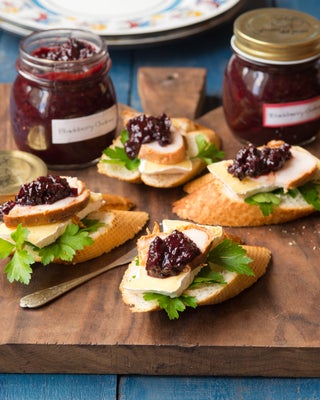 Blackberries have a good strong flavour and as a result they can hold their own with spices and vinegar in this chutney; partner with ham or smoked chicken or Camembert cheese.
Ingredients
1 medium onion, peeled and finely chopped
3 cloves garlic, peeled and finely chopped
500 grams blackberries, fresh or frozen
½ cup prunes, diced
grated rind and juice of 2 oranges
½ cup brown sugar
½ cup cider or wine vinegar
Method
Heat a dash of oil in a large saucepan and cook the onion and garlic over a moderate heat for 5 minutes until softened but not coloured.
Add the blackberries, prunes, orange rind and juice, brown sugar and vinegar and simmer gently for about 30 minutes until the mixture is quite thick. (If you are using frozen fruit, it may take 5 minutes longer).
Bottle into hot sterilised jars and seal when cold. Keep refrigerated.