Add to Cookbook

Puttanesca chickpea braise
15 minutes (no browning), 20 minutes (browning)
low 10-12 hours, high 5-7 hours, soaking time 12-16 hours
6-8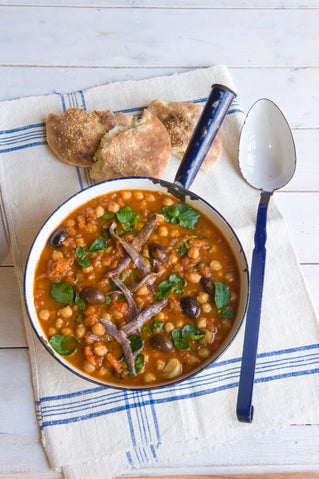 Gutsy ingredients flavour up this robust Mediterranean-inspired dish.
Ingredients
2 cups dried chickpeas
1 onion, peeled and finely diced
10-12 cloves garlic, crushed, peeled and sliced
2 x 400-gram cans chopped tomatoes in juice
3 cups vegetable stock or water
½ cup black olives
29 gram can anchovies, well drained, optional
2 tablespoons capers, rinsed
½ teaspoon dried basil
½ teaspoon dried oregano
¼-½ cup sundried tomato paste or pesto
Method
Soak the chickpeas in plenty of cold water overnight or for at least 12 hours. Use about 3 times the amount of water to chickpeas. Drain well.
Turn the slow cooker on to low to pre-warm while gathering and preparing the ingredients.
If wishing to brown the ingredients: Brown the onion in a dash of oil until lightly browned. Add the garlic and cook a further 1-2 minutes or until the mixture is fragrant. Put the onion, garlic, tomatoes, stock or water, olives, anchovies if using, capers, basil, oregano and the well-drained chickpeas into the pre-warmed slow cooker. Stir to evenly mix the ingredients and cover with the lid.
Cook on low for 10-12 hours or on high for 5-7 hours, or until the chickpeas are tender. They take a long time to cook, so do not be tempted to keep lifting the lid, as they will take some hours to cook to a gentle bite.
Stir in the sundried tomato paste or pesto and season with salt and pepper before serving in deep plates or shallow bowls. Garnish with anchovies and rocket or basil leaves if wished. Accompany with heavily infused garlic-butter grilled bread.
Cooks Tips
Variations: - Use other dried beans in place of chickpeas. - For a little meat, add 200 grams sliced salami before serving. - Add 3-4 diced and crispy cooked bacon steaks before serving. - Use flavoured canned tomatoes such as Italian-seasoned ones. - Use sun-dried capsicum pesto in place of tomato paste or pesto.