Add to Cookbook

Pumpkin and rocket salad with millionaire's dressing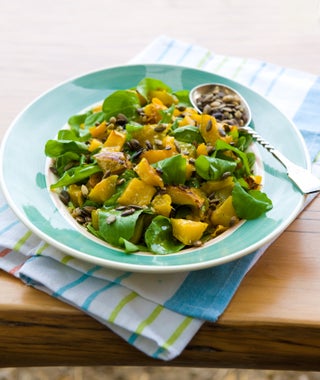 Nicola's dressing adds a touch of glamour, while the toasted sunflower seeds give a nutty taste and texture to this simple salad, which was devoured by all when we visited the Wrights.
Ingredients
1 kilogram pumpkin, peeled
¼ cup olive oil
4-5 handfuls rocket
½ cup pumpkin seeds, toasted
Millionaire's Dressing
1/3 cup walnut oil
1/3 cup verjuice
1/3 cup virgin olive oil
1 teaspoon wholeseed or Dijon mustard
1 teaspoon minced fresh garlic
Method
Preheat the oven to 200ºC.
Cut the pumpkin into 1-2cm pieces and toss with the olive oil. Scatter in one layer onto a large baking tray.
Bake in the preheated oven for 20-25 minutes or until the pumpkin is cooked and has begun to brown. While the pumpkin is cooking, prepare the dressing.
Arrange the rocket on a serving platter and place the cooked pumpkin on top. Scatter over the pumpkin seeds and pour on the dressing. Serve warm.
Millionaire's Dressing
Put all the ingredients into a lidded jar and shake to mix. For a creamier dressing, blend in a food processor. Add a small handful of herbs-of-the-season, if wished.
Cooks Tips
- Verjuice is an acidic juice made by pressing unripe grapes. You'll find verjuice in supermarkets and specialty food stores. Variations: - Roast diced carrots in place of pumpkin and serve garnished with sunflower seeds. - Use a mix of salad greens or torn-up spinach, adding a segmented oranges to the salad and the grated rind to the dressing. - In place of verjuice in the dressing, use a mild-tasting vinegar such as cider or white wine vinegar.