Add to Cookbook

Pumpkin And Chilli Risotto with ras el-hanout roasted lamb shanks
6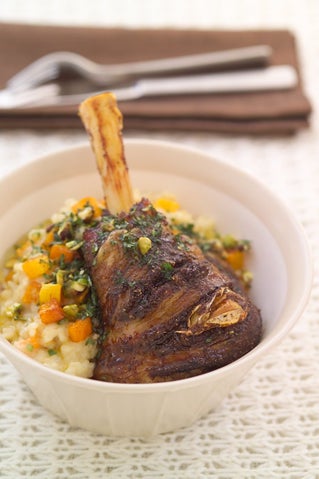 Winter is the perfect time for a steaming bowl of pumpkin risotto. Add a kiwi favourite, lamb shanks, spiced with sweet, hot flavours from the Middle East, serve in bowls with parsley, pistachio nuts and a drizzling of lemon olive oil for a delicious meal.
Ingredients
600-700 grams butternut or buttercup pumpkin
75 grams butter
2 onions, peeled and finely chopped
2 tsp minced garlic
2 long green chillies, deseeded and diced
2 cups short grain rice (see Cook's Tip)
1 cup dry white wine
about 3½ - 4 cups chicken stock, preferably homemade
¼ cup grated fresh Parmesan cheese
¼ cup cream
Ras el-hanout roasted lamb shanks
6 lamb shanks
6 large cloves garlic, peeled and crushed
2-3 tablespoons oil
2-3 tablespoons ras el-hanout (see recipe on our website)
Method
PUMPKIN AND CHILLI RISOTTO
Peel the pumpkin and discard the seeds. Cut the pumpkin into small 1cm size pieces. Set any uneven sized pieces aside.
Heat the butter in a large saucepan and cook the onion over a low heat for 10-15 minutes until softened but not coloured. Stir regularly. Add the garlic, chilli and the uneven sized pieces or pumpkin and cook a further 2 minutes.
Add the rice and toss over the heat until the rice whitens. Add the wine and stir over a moderately low heat until all the liquid has been absorbed. Then add most of the stock and stir regularly over a moderate heat until the risotto is lovely and creamy. If the risotto thickens too much, add more stock. It will take about 30 minutes for all the stock to be absorbed.
While the risotto is cooking, heat a dash oil in a frying pan and add the diced pumpkin. Cook over a high heat until golden and tender.
Once the risotto is creamy and the rice is cooked, stir in the cooked diced pumpkin, Parmesan cheese and cream. Season well with salt and pepper. Serve in deep bowls with the Ras-el-Hanout Lamb Shanks.
Ras el-hanout lamb shanks
Cut 2-3 slashes in the meaty part of each lamb shank. Into one of these cuts, place a garlic clove, pushing it in to secure. Alternatively, secure the clove with a toothpick.
Rub each lamb shank thoroughly with oil and then sprinkle it with about 1 teaspoon of ras el-hanout mix and massage it in well. At this point the lamb shanks can be referigerated overnight; remove fro mthe fridge 30-60 minutes before cooking. Place shanks on a tray lined with foil or baking paper.
Roast at 160ºC for about 1¾ hours or until the meat is well cooked and beginning to come away from the bone easily. Serve with the pumpkin and chilli risotto.
Cooks Tips
- Arborio rice is the best rice to make a best risotto with, as it absorbs the cooking liquid while holding its shape and it's starch content ensures a creamy texture. If you do not have Arborio, use short grain or Calrose rice.