Add to Cookbook

Pulled Lamb Shanks with Figs and Walnuts
10 minutes
3 hours
Overnight
4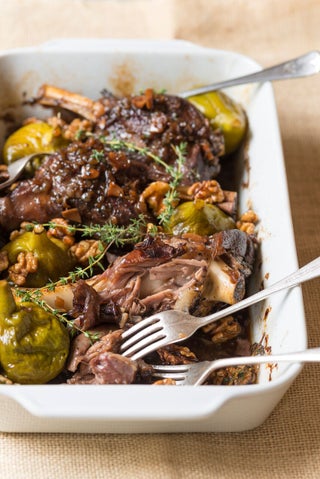 Lamb shanks, marinated, slow cooked, and served with roasted figs and walnuts - tossed in a sweet balsamic glaze - makes a great autumn meal to a share with friends.
Ingredients
4 lamb shanks
2 large cloves garlic, peeled and thickly sliced
1 onion, peeled and finley chopped
1 1/2 cups red wine (I used pinot noir, though what you have to hand will be fine)
1/4 cup quince jelly ( or use 2 tablespoons quince paste)
1 tablespoon fresh thyme leaves ( or use a pinch of dried)
Roasted Glazed Figs and Walnuts
6-8 fresh figs
1/2-3/4 cup walnut hlaves
2 tablespoons oil
2 teaspoons balsamic vingear
2 teaspoons quince jelly
Method
Place the lamb shanks into a shallow lidded container, or a sealable plastic bag. Add the garlic, onion, wine, quince jelly and thyme leaves. Season well with ground black pepper. Cover or seal and toss to coat and mix. Refrigerate overnight .
Preheat the oven to 160 degrees Celsius.
Lift the lamb shanks from the marinade (reserve the marinade) and brown the lamb shanks well in a hot frying pan into which a good dash of oil has been heated. Turn the lamb shanks as best you can so that they brown well and brown evenly. Transfer to a lidded casserole . Pour over the marinade ingredients and cover.
Bake in the preheated oven for about 3 - 3 1/2 hours, or until the meat is almost falling from the bone. Remove the lid and cook a further 30-40 minutes so that the lamb browns well and any juices remaining can become glossy as they evaporate. Turn the lamb to coat in the cooking juices. When the lamb is well-cooked, remove from the oven, and set aside while you cook the figs. Serve the lamb shanks with the glazed figs and walnuts.
Roasted Glazed Figs and Walnuts
Into a shallow dish put the figs and walnuts and toss with the oil, vinegar and quince jelly. Roast in a 180 degrees Celsius oven for 10 minutes or until the walnuts are golden and the figs hot. Turn the figs in the glaze to coat well before adding to the lamb.
Cooks Tips
You can cook the lamb shanks on a higher temperature for less time if wished.
If you do not have quince jelly, use re currant or port jelly , or even quince paste - though warm it a little so that it melts .