Add to Cookbook

Provolone And Artichoke Pizza Breads
20 minutes
15 minutes
Makes 4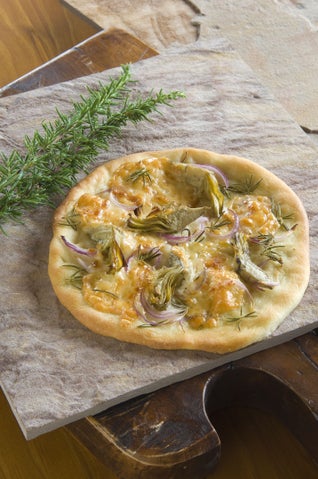 Provolone is an Italian semi-hard, cow's whole milk cheese with a smooth golden rind. It is a very good table cheese but is equally good for cooking. Like mozzarella, provolone is a pulled or stretched curd cheese. It may be shaped like a salami (the slightly sweet provolone dolce) or a melon with a spherical knob on top (the slightly salty caciocavallo - meaning 'cheese on horseback'). The flavour becomes more pungent and the texture more granular with age. Ripen for no less than one month.
Ingredients
1½ tsp dried yeast
1 tsp sugar
¾ cup warm water
1½ cups high-grade flour
1 tsp salt
1 tblsp olive oil
olive oil for brushing
½ sliced red onion
1 tblsp fresh rosemary sprigs
250 grams provolone dolce cheese or mozzarella
½ cup roasted artichokes
Method
Sprinkle yeast and sugar over warm water. Set aside for 10 minutes until light and frothy.
Put flour and salt in a food processor with olive oil and yeast mixture and mix to a soft dough (2-3 minutes). Cover and leave in a warm place until doubled in bulk.
Gently deflate and cut into 4 pieces; roll each into 15cm rounds. Place on a greased oven tray. Brush dough lightly with olive oil and sprinkle with red onion and rosemary.
Slice provolone dolce and roasted artichokes and divide between pizza breads.
Cook at 200ºC for 12-15 minutes or until golden.
Cooks Tips
Buying: Source provolone from good specialty cheese stores such as Sabato. Storing: Wrap in a cloth, cover loosely in plastic wrap and store in the fridge. Always bring to room temperature before serving. Preparing: Slice or grate before using. Cooking: Provolone melts easily. Use it on pizzas, wrapped in chicken schnitzels with ham, as a topping on baked white fish fillets in a tomato sauce, or layered in gratins or vegetables bakes.