Add to Cookbook

Provencal beans
15 minutes
20 minutes, resting time 20 minutes
4-6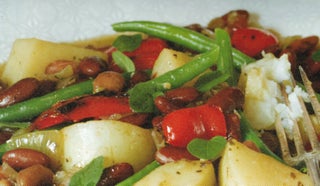 Ingredients
2 cups dried borlotti beans
2-3 red capsicums, thickly sliced
2 onions, peeled and diced
1 tablespoon minced garlic
2 tablespoons Provencal herb n salt mix (see below)
750 grams waxy potatoes, unpeeled and chopped
4 cups vegetable stock or water
250 grams green beans or 1 head broccoli, cut into florets
Provencal herb n salt mix
1½ tablespoons coarsley ground peppercorns
1 tablespoon salt
2 teaspoons dried basil
1 teaspoon each dried marjoram and thyme
1 teaspoon fennel seeds
Method
Soak the borlotti beans in plenty of water; you will need about 3 times the amount of water to beans. Cover and set aside for at least 12 hours, maybe overnight or while you are at work.
Drain the beans well and place in the pressure cooker. Add the capsicum, onions, garlic, Provencal herb n salt mix, potatoes and vegetable stock or water.
Close and lock the lid. Bring the cooker to high presure over a high heat. When pressure has been rached, reduce the heat to stabilise the pressure and cook for 20 minutes.
Turn the heat off and leave the pressure cooker to stand for 10-15 minutes until the cooking indicated has completely sunk back. Give the pressure cooker a good shake to remove any steam bubbles before removing the lid.
Blanch the green beans or broccoli for 2 minutes in boiling water. Drain and stir into the bean mixture before serving.
Provencal herb 'n' salt mix
Mix all the ingredients together. Makes about ¼ cup.
Cooks Tips
Jazz this up by stirring in a dollop or two of basil or sundried tomato pesto and add ½ cup black olives. Serve in wide shallow bowls or deep plates and have plenty of freshly made garlic bread to mop up the juices.