Add to Cookbook

Provencal bean and red capsicum pot
soaking time: 12-16 hours, preparation time: 15 minutes
low 10-11 hours, high 6-7 hours
6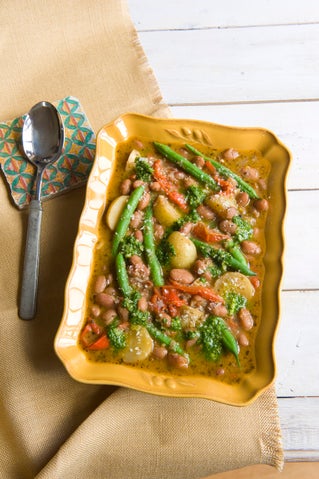 The provencal herb 'n' salt mix gives this simple dish great character and flavour. Drizzle freshly made basil pistou over each serve and be immediately esorted to the fields of Provence on a summer's day.
Ingredients
2 cups dried borlotti beans
3 red capsicums, thickly sliced
2 onions, peeled and diced
1 tablespoon minced garlic
2 tablespoons provencal herb 'n' salt mix (see recipe on our website)
5 cups vegetable stock or water
12-18 baby new potatoes, halved
250 grams green beans, trimmed
Pistou
40 large basil leaves
4 cloves garlic, crushed and peeled
¼ cup olive oil, extra virgin olive oil is nice here
Method
Soak the borlotti beans in plenty of water to cover - you'll need about 3 times the amount of water to beans. Cover and set aside overnight or for at least 12 hours.
Turn the slow cooker on to low to pre-warm while gathering and preparing the ingredients.
Drain the borlotti beans and place in the slow cooker. Add the capsicums, onions, garlic, herb mix and stock or water. Stir well and cover with the lid.
Cook on low for 10-11 hours or on high for 6-7 hours. In the last quarter of cooking time, add the potatoes. Cover and keep cooking until the borlotti beans and potatoes are tender.
Blanch the green beans for 2 minutes in boiling water. Drain and stir into the slow cooker. Season with salt and pepper if wished.
Serve drizzled with pistou and sprinkled with flaky salt if wished.
Pistou
Put the basil leaves, garlic and oil in a mini food processor and process until smooth. Alternatively, mash the basil and garlic together with a mortar and pestle, adding a little of the olive oil as you mash, until all the oil has been added.
Cooks Tips
Variations: - Add a can of chopped tomatoes in juice. - Add ¼ cup Pernod with the stock or water. - Add in 2-3 tablespoons chopped fresh tarragon before serving. - When small potatoes are out of season, use chunky diced waxy potatoes. - No time to make pistou? Buy basil pesto from the chiller and look for one that has only a small amount of cheese in the ingredient list.