Add to Cookbook

Prawn and chicken in thyme chilli broth on pasta
15-20 minutes
15-20 minutes
4 as a light meal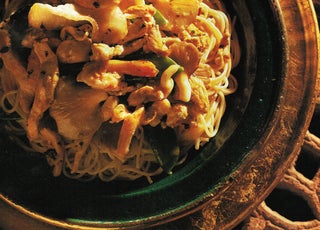 Here's a pasta dish which will rouse your taste buds. The sauce is slightly chilli warm and tangy from the lemon juice. It has subtle Thai flavours, and is served with crisp prawn crackers on tiny strands of vermicelli pasta - a combination made for spring or summer enjoyment.
Ingredients
2 double chicken breasts, no skin
12 green prawns
2 cloves garlic
2 tablespoons chopped thyme, lemon thyme is nice here
1 large teaspoon chilli paste or ½ teaspoon chilli powder
4 tablespoons olive oil
juice of 1 lemon
1 teaspoon freshly ground black pepper
100 grams mangetout (snow peas)
approximately 12 baby oyster mushrooms
¼ cup dry sherry
¾ cup chicken stock
1 teaspoon cornflour
Method
Remove the skin from the chicken and slice the breasts into wafer-thin slices.
Shell and devein the prawns, then cut them in half lengthwise. (To devein prawns, make a shallow cut around the outside of the prawn and you'll see a blackish tract. By pulling it at one end, remove and discard. With many farm prawns, this is not always necessary, but it's worth checking anyway).
Crush and peel the garlic. Do this by placing the garlic clove on a board and firmly pressing it with the blade of a heavy knife. This will release the skin. Peel the skin away. Chop the garlic finely and then mash to a paste with the salt.
In a bowl, mix together the thyme, garlic, chilli, olive oil, lemon juice and black pepper. Toss in the chicken and prawns and leave to marinate for at least 10 minutes, preferably 20 minutes.
Heat a non-stick frying pan and add the chicken and prawns in two batches. Toss the first batch over a high heat until well browned, then transfer to a plate while cooking the second batch.
Return the chicken and prawns to the pan and add the mangetout and sherry. Boil for 3-4 minutes.
Blend the stock with the cornflour and add to the pan. Simmer 2-3 minutes until it thickens. Serve over freshly cooked vermicelli and accompany with prawn chips.
Cooks Tips
- I've used baby oyster mushrooms for their delicate flavour, but if you can't get them, use finely sliced, almost shredded button mushrooms.