Add to Cookbook

Potato Gnocchi With Rocket, Parsley And Walnut Sauce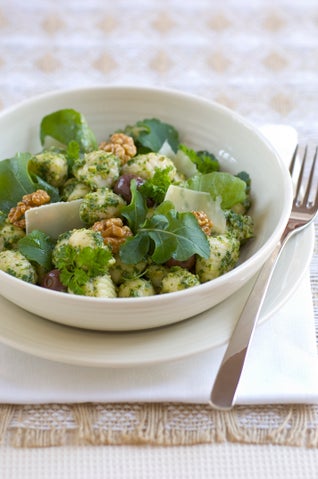 Eat gnocchi quickly after cooking when they're tender and hot and before they become sticky and gluey.
Ingredients
120 gram bag of rocket
1 cup well-packed tender parsley leaves
2 juicy cloves garlic
100 grams grated parmesan or tasty cheddar cheese
½ cup walnuts
½ cup fruity virgin olive oil
600-800 grams of potato gnocchi
Method
Take half the bag of rocket and place in a food processor with parsley leaves, garlic, parmesan or tasty cheddar cheese, walnuts and olive oil.
Process altogether until the mix forms a smooth paste. Season with salt and pepper if wished.
Plunge potato gnocchi into a saucepan of boiling salted water and cook quickly only until the gnocchi rise to the top. Lift out and toss with the rocket sauce.
Serve with extra toasted walnuts, rocket and parsley leaves, black olives and shavings of parmesan or cheddar cheese.
Cooks Tips
Look for pre-made Potato Gnocchi in the chilled section of your supermarket. In Italian gnocchi means "little dumplings" and it is traditionally made from potatoes, flour and maybe eggs and cheese. While homemade gnocchi are lovely, for ease and time I buy pre-made gnocchi from the chilled section in the supermarket.