Add to Cookbook

Potato and roasted peanut hot pot
30 minutes
low 5-6 hours, high 3-4 hours, plus extra 30 minutes
6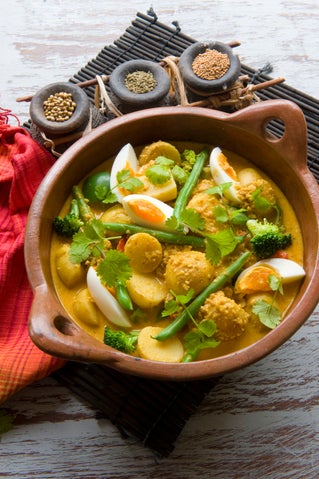 This reicpe is based on one of Indonesia's most well-known dishes - gado-gado. It's a meal prepared from cooked vegetables served with a spicy peanut sauce and is delicious. Take the ingredients and cook them slowly into a hearty vegetable dish, packed with plenty of flavour. For an authentic touch, serve piles of krupuk or prawn crackers on the side.
Ingredients
1 kilogram waxy potatoes, washed
1 red capsicum
1 green capsicum
1½ cups blanched peanuts, roasted and finely chopped
2 long green chillies, sliced, deseeded if wished
1 tablespoon minced ginger
1 teaspoon minced garlic
½ cup korma curry paste
400 millilitre can coconut milk
1 cup water
1 tablespoon grated palm sugar or brown sugar
1 teaspoon salt
200 grams green beans or small head broccoli
4 hard-boiled eggs, peeled and quartered
2 tablespoons chopped fresh coriander
Method
Turn the slow cooker on to low to pre-warm while gathering and preparing the ingredients.
Peel the potatoes if wished and cut into large chunks. Cut the capsicums into large 3-cm pieces.
Into the pre-warmed slow cooker put the potatoes, capsicums, peanuts, chillies, ginger and garlic.
In a jug, stir together the curry paste, coconut milk, water, sugar and salt and pour into the slow cooker. Stir to mix evenly and cover with the lid.
Cook on low for 5-6 hours or on high for 3-4 hours, or until all the vegetables are tender.
Top and tail the beans and cut in half or cut the broccoli into florets and stir into the slow cooker. Cover with the lid and cook on high for an additional 30 minutes. Alternatively, blanch the vegetables and add to the slow cooker; there will be no requirement for extra cooking time.
Stir in the eggs and coriander and season with extra salt if required.
To oven cook
Pile the prepared vegetables into a large casserole or lidded ovenproof frying-pan. Pour over the coconut milk mixture, prepared as above and stir and cover. Bake at 180ºC for 1½ hours. Add the prepared green vegetables, eggs and coriander and bake a further 3-5 minutes. Serve hot.
Cooks Tips
Variations: - Cut half a cauliflower into florest and add to the hot pot with the beans or broccoli. - Add 2 peeled and sliced carrots with the potatoes and an additional ½ cup water. - Place a handful of bean sprouts in the base of every bowl before ladling in the vegetables and sauce. - Waxy potatoes are ideal for slow cooking as they remain whole and have a firm texture when cooked. Look for Nadine, Draga, Frisia or Red King Edward. Alternatively use a general-purpose potato such as Rua, Desiree, Karaka, Moonlight or Mavis Anchor.