Add to Cookbook

Potato and pea samosa (with chilli and tomato salsa)
25 minutes
15 minutes
Makes about 20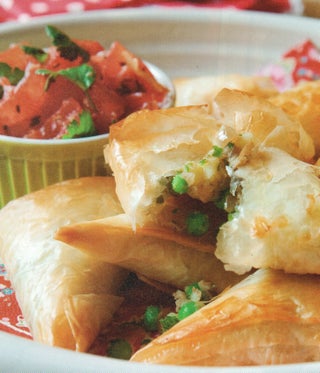 Ingredients
300 grams potatoes, peeled
1 cup peas
3 tablespoons oil
2 teaspoons coriander seeds, crushed
½ red onion, very finely chopped
2-3 teaspoons minced garlic
1 green chilli, deseeded and sliced
2 teaspoons ground coriander
1-2 teaspoons ground cumin
¼ cup chopped fresh coriander
4-5 sheets filo pastry
100 grams butter
Method
Preheat the oven to 190C. Grease two baking trays lightly.
Dice the potatoes finely. Cook in boiling salted water until tender, drain well and mash roughly. Cook the peas in boiling water. Drain.
Heat the oil in a frying pan and cook the coriander seeds until they begin to crackle. Add the onion, garlic and chilli and cook for a minute until fragrant. Add the ground spices, and toss in the heat before stirring in the potatoes, peas and corainder. Cool.
Take one sheet of filo, butter lightly and fold in half lengthwise. Place a spoonful of potato mixture at the top of the sheet and fold over to make a triangle. Continue to fold down length of sheet. Place triangle onto a greased baking tray; brush with butter. Repeat with remaining ingredients.
Bake in a preheated oven for 12-15 minutes or until golden. Or deep-fry in hot oil for 3-4 minutes. Serve with Chilli and Tomato Salsa (see recipe on this website).