Add to Cookbook

Potato and lemon grass soup
20 minutes
in the slow cooker: low 5-6 hours, high 3-4 hours, plus extra 30 minutes
6-8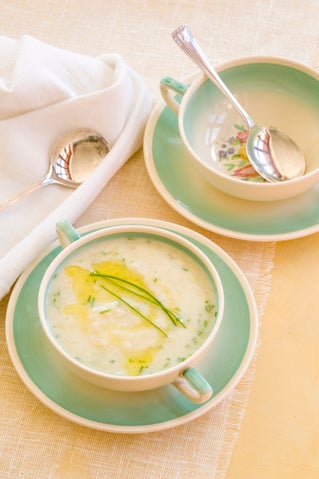 Potatoes are so rarely thought of as a vegetable to make into soup, but good-flavoured floury potatoes make a tasty soup. Vichyssoise is a classic potato and leek soup, created by a French chef in the early 1900s - served chilled, it is garnished simply with chives. The trick here is to cook the onion until soft in the frying-pan before piling into the slow cooker as it will not cook to be tender otherwise. The addition of lemon grass adds a sweet, refreshing flavour and the soup can be served hot or cold.
Ingredients
1 onion, peeled and finely diced
50 grams butter
4 lemon grass stalks
1 leek, white part only, finely sliced
500 grams floury potatoes, peeled and diced
4 cups water
3-4 teaspoons chicken stock powder
1 cup milk
½ cup creme fraiche or sour cream
2 tablespoons finely chopped fresh chives
Method
Turn the slow cooker on to low to pre-wawrm while gathering and preparing the ingedients.
Cook the onion in the butter in a frying pan over a moderate heat for about 12-15 minutes, stirring occasionally until the onion is soft. Try not to brown the onion.
Hit the lemon grass stalks with a mallet or the handle base of a cook's knife to bruise them. This allows the flavours to come through during cooking.
Into the pre-warmed slow cooker put the onion and butter from the pan with the lemon grass stalks, leek, potatoes, water and chicken stock powder and stir as well as possible to mix the ingredients evenly. Cover with the lid.
Cook on low for 5-6 hours, or on high for 3-4 hours, or until the potato is tender.
Remove the lemon grass stalks and puree the ingredients in a food processor or with a blender until smooth. Return to the slow cooker with the milk, creme fraiche or sour cream and chives and cover with the lid.
Cook on high for 30 minutes before serving hot with a drizzle of olive oil (lemon-scented is nice here) and a few extra chives. Alternatively, allow the soup to chill and serve cold.
Cooks Tips
- Use floury potatoes for the finest tasting soup. The varieties to look out for are Ilam Hardy, Red Rascal and Agria. Do not use waxy potatoes as these will process to a gluey mass. - For a special summer meal or entree, serve this soup cold in elegant mugs garnished with a dollop or creme fraiche and a stem of lemon grass.