Add to Cookbook

Pork with pears and sherry
25 minutes
low 5-7 hours, high 3-4 hours
6-8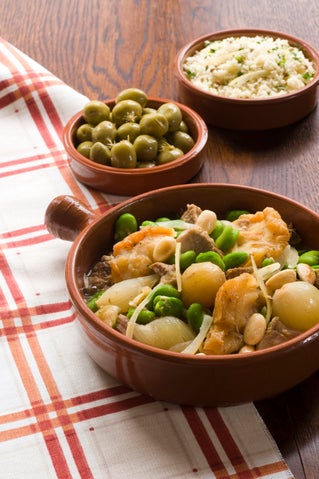 Bring a touch of Morocco to the table with this dish.
Ingredients
1 kilogram lean pork for casseroling
10-12 baby onions, peeled
8-10 whole cloves garlic, crushed and peeled
6-8 dried pear halves
1 tablespoon coriander seeks, toasted and crushed
2 teaspoons cumin seeds, toasted
few threads saffron, optional
few whole peppercorns
1 cup medium-dry sherry
1 cup chicken stock
1 cup pear or apple juice
½x 500-gram bag frozen broad beans
½ preserved lemon, sliced, optional
½ cup toasted almonds
Method
Turn the slow cooker on to low to pre-warm while gathering and preparing the ingredients.
Cut the pork into large 3-4cm sized peices. Halve the baby onions, if wished.
Brown the pork in a good dash of oil in a large heavy-based frying-pan. This is best done in 2-3 batches to avoid the meat from stewing. Gently pan-fry the onions and garlic cloves until lightly brown; add more oil if required.
Into the pre-warmed slow cooker put the pork, onions, garlic, pears, coriander seeds, cumin seeds, saffron if using, peppercorns, sherry, stock and juice. Stir to mix as well as possible and cover.
Cook on low for 5-7 hours or on high for 3-4 hours.
Place the broad beans in a heatproof jug or dish and pour boiling water over to cover them generously. Stand for one minute, drain and refresh in cold water. Peel if wished.
Add the beans to the slow cooker with the preserved lemon if using, and almonds, and serve with mashed potatoes or couscous.
Cooks Tips
- When using preserved lemons, scoop out and discard the mushy centre pulp. Wash the rind well as this is the part you use. Variations: - Replace dried pears with fresh pears. Use 2-3 pears, peeled, cored and quartered and browned if wished. - Use 1 kilogram boneless chicken thigh portions in place of pork pieces. Cut the chicken thighs in half.