Add to Cookbook

Pork saltimbocca style
30-35 minutes
in the slow cooker low 5-6 hours, high 3-4 hours
8-10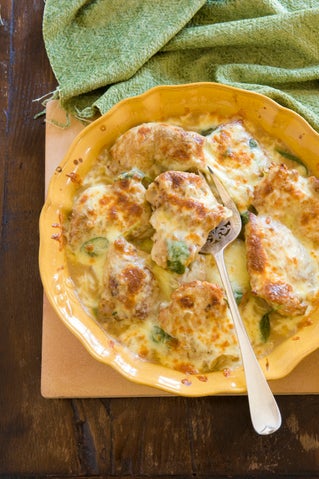 Literally translated, saltimbocca means 'jump in the mouth'. This famous Italian dish is usually prepared from veal escalopes with sage and prosciutto and pan-fried. The flavours work well with pork and the slow-cook twist on this rather special dish is perfect to have with friends. It can be made in advance and reheated later as it will retain its flavour and texture well.
Ingredients
12 pork schnitzels
24 sage leaves
12 small slices prosciutto
1 cup Marsala
1 onion, peeled and finely chopped
1 teaspoon minced garlic
½ cup cream or mascarpone
1 cup grated mozzarella
Method
Turn the slow cooker on to low to pre-warm while gathering and preparing the ingredients.
Place a piece of plastic wrap on a chopping board and sprinkle with water. Place a schnitzel on top, sprinkle with water and cover with a layer of plastic wrap.
Hit firmly with a mallet or rolling pin to ensure the pork schnitzels are an even thickness; about 3mm. Do not hit them until they are too thin or they will tear. Repeat with the remaining schnitzels.
Place the schnitzels on a chopping board. On one half, place 2 sage leaves and a piece of prosciutto. Season well with pepper. Fold over to enclose the sage and prosciutto and secure with a toothpick.
Heat a good dash of oil or a knob of butter in a heavy-based frying pan and, when hot, brown the pork parcels on both sides. Set aside and add the Marsala to the pan. Stir to lift any sediment from the pan.
Into the pre-wrmed slow cooker put the pork parcels, Marsala, onion and garlic and cover with the lid.
Cook on low for 5-6 hours or on high for 3-4 hours, or until the pork is tender.
Remove the pork from the slow cooker and stir in the cream or mascarpone. Season with salt and pepper and serve sprinkled with the mozzarella.
Alternatively, transfer the pork to a heatproof dish. Mix the juices in the slow cooker with the cream or mascarpone and pour over the pork. Scatter over the mozzarella cheese and fan grill under a moderately high heat until the cheese has melted and become golden.
Cooks Tips
Variation - Use chicken breast in place of pork. Flatten with the mallet or rolling pin until the breast is about twice its original size. - When flattening any cut of meat, it is always wise to place it between two dampened pieces of plastic to avoid tearing the meat, which can easily happen if it sticks to a dry chopping board. - Dont forget to remove the toothpick before serving. - Marsala is a fortified wine that originates from the town of the same name in Sicily. While not the same, Madeira can be substituted.