Add to Cookbook

Pork chops in pizza sauce
20 minutes
in the slow cooker: low 5-7 hours, high 3-4 hours
6-8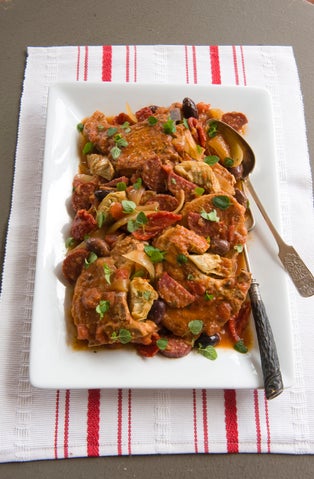 The bold, pizza-inspired flavours of tomatoes, garlic and oregano turn these pork chops into a great-tasting family meal.
Ingredients
8 pork loin chops, skin removed
150 grams salami, sliced thinly
2x140 gram tubs tomato pizza paste
400 gram can chopped tomatoes in juice
½ cup chicken or light beef stock or water
1 tablespoon minced garlic, optional
optional additions
3 artichoke hearts, quartered
½ cup black olives
¼ cup sun-dried tomato halves in oil, well drained
2-3 tablespoons oregano or marjoram leaves
Method
Turn the slow cooker on to low to pre-warm while gathering and preparing the ingredients.
Heat a dash of oil in a frying-pan and brown the pork chops on both sides over a high heat.
Into the pre-warmed slow cooker layer the pork chops and salami. In a jug, mix together the pizza paste, tomatoes, stock or water and garlic if using, and pour over the pork and salami. Cover with the lid.
Cook on low for 5-7 hours or on high for 3-4 hours. Stir in the optional ingredients if using: artichoke hearts, black olives, sun-dried tomatoes and oregano or marjoram. Serve with oven-baked, hot garlic pizza bread.
Cooks Tips
Pizza pastes are tomato pastes flavoured with herbs and garlic. If you cannot find one, use tomato paste and season with dried mixed herbs like oregano and rosemary. Variation - Use 10-12 boneleass chicken thigh portions or 8-10 lamb shoulder chops in place of the pork.