Add to Cookbook

Porcupine meatballs
preparation time 20 minutes
low 6-7 hours, high 3-4 hours
5-6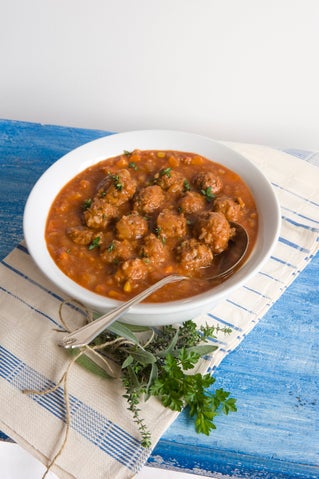 Family food with ease. Adding the rice to the meatballs will bulk them out as well as adding carbohydrates. For parents, add in a little basil pesto when serving.
Ingredients
500 grams lean beef mince
½ cup raw or uncooked long-grain white rice
¼ cup chopped fresh herbs (parsley, chives, oregano, marjoram, etc)
1 large onion, peeled and finely diced
1 large carrot, peeled and finely diced
1x 550 gram can or jar of your favourite cook-in-style sauce
1½ cups beef stock or water
Method
Turn the slow cooker on to low to pre-warm while gathering and preparing the ingredients.
Mix together the mince, rice and herbs with a good seasoning of salt and pepper. Take dessertspoonfuls of mixture and roll firmly into balls and set aside.
Into the prewarmed slow cooker put the onion and carrot.
Mix together the cook-in-style sauce and beef stock or water and pour into the slow cooker. Stir to mix evenly with the vegetables.
Sift the porcupine balls on top and cover with the lid.
Cook on low for 6-7 hours or on high for 3-4 hours. Serve with your favourite vegetables.
Cooks Tips
Variations - Use lamb or pork mince in place of beef. - Use half cooked brown rice in place of raw white rice. - Add or vary the vegetables with whatever is to hand - celery, parsnip, yams and mushrooms all go well here. - Vary the flavours with different cook-in-style sauces. Try curry, tomato-based pasta sauces or casserole-style sauces.