Add to Cookbook

Pizza Margarita
30 minutes, standing time: overnight
5 minutes
4-5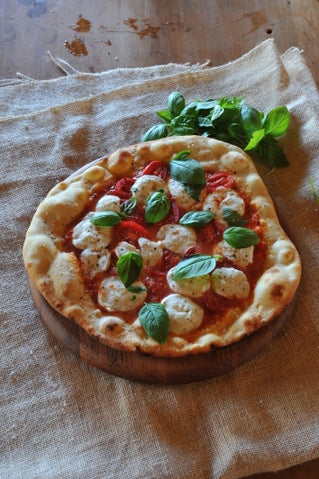 Helen's pizza dough is sensational! It needs to be started the night before but it's worth the wait.
Ingredients
5 cups high grade flour
scant ¼ teaspoon active dry yeast
2 cups water, room temperature
1 tablespoon extra virgin olive oil
1½ teaspoons salt
½-¾ cup passatta or a tomato pizza sauce/paste
500-750 grams buffalow (or cow) mozzarella or bocconcini
1 cup loosely packed fresh basil leaves
Method
Beginning the night before, sift half the flour into a bowl and stir through the yeast and water. Cover and set aside in a cool place overnight. (In summer, place the mixture in the refrigerator, and remove 1 hour before yu are ready to start to allow fermentation to kick-start again).
Next day, sift the remaining flour and salt onto a dry bench and make a large hole in the centre. Pour in the yeast batter and gradually work the flour into the batter, kneading firmly for 10 minutes or until the dough springs back when pressed.
Divide the dough into 4 and place the pieces on a floured board under a lightweight, clean cloth and leave in a warm place for 1 hour or until the dough has doubled in bulk.
Slice the mozzarella or bocconcini half and hour before you cook your pizza and allow it to drain on a board.
Roll or shape each piece of dough into a large circle, brush edges with olive oil, spread ¼ of the tomato passatta on top, leaving about a 2-cm border. Slice the cheese and arrange ¼ on top along with some of the basil and season with salt and pepper.
Cook for 3-4 minutes in a hot pizza oven, turning 2-3 times, to ensure the pizza cooks evenly. Serve hot and sliced into wedges.
Cooks Tips
- To cook pizzas in a standard oven, preheat to 240º fan bake and place a pizza stone into the oven to preheat. Cook the pizzas on the hot pizza stone for about 8 minutes or until the base has browned and the cheese has melted.