Add to Cookbook

Pinenut and spice-dusted lamb cutlets
30 minutes
5 minutes
15 minutes
4-6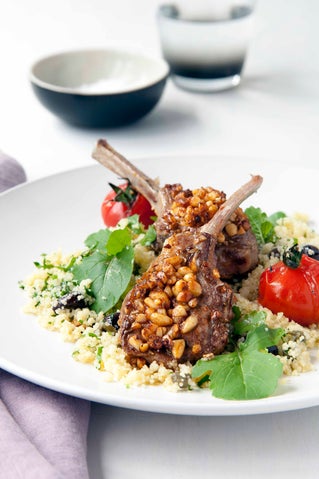 Cooking these lamb cutlets in ghee adds a warm rich flavour.
Ingredients
70 gram packet pinenuts
2 teaspoons minced garlic
1 teaspoon fennel seeds, crushed
½ teaspoon paprika
½ teaspoon salt, flaky is best here
¼ teaspoon ground cinnamon
12 lamb cutlets, Frenched
ghee for pan frying
honey for drizzling
Method
Coarsely chop the pinenuts by hand or by pulsing in a food processor. Mix with the garlic, fennel, paprika, salt and cinnamon and place on a dinner plate.
Dip the lamb cutlets into the crumb mix and press a little on each side. Refrigerate for 15 minutes to allow time for the spices to set to the lamb a little more firmly.
Heat a good knob of ghee in a frying pan and cook the lamb cutlets over a moderate heat for 2-3 minutes each side. Be careful not to burn the nuts and spices. Drizzle the cutlets with the warm honey and serve with a couscous salad of your choice.