Add to Cookbook

Pinenut and rosemary crusted lamb with roasted tomato and olive sauce
15-20 minutes
30 minutes
4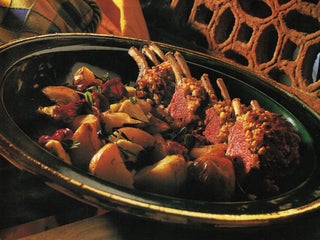 A lamb rack makes a very quick meal - cooked and ready to eat in less than 30 minutes. It can be roasted just as it is, marinated, wrapped in pastry and baked or roasted with a favourite crumb mixture. I like the traditional combination of rosemary with lamb. Add to this an easy-make sauce and a few more delicious flavours like olives and you have a great dinner for friends and family.
Ingredients
2 slices bread
1 clove garlic, crushed and peeled
2 tablespoons chopped rosemary leaves
50 grams butter, grated
¼ cup pinenuts
1 rasher of bacon, finely chopped, optional
2 racks lamb, well trimmed
3 medium tomatoes
½ cup beef or chicken stock
2 tablespoons chopped fresh rosemary
2 tablespoons chopped black or green olives
Roasted artichokes and potato hash
4 large potatoes
2 onions
4 tablespoons olive oil
4 cloves garlic, crushed and not peeled
1 tablespoon salt
2 branches of rosemary
4 marinated artichokes
4 sundried red peppers or tomatoes, optional, 2 tablespoons each of chopped fresh rosemary and marjoram
Method
Roughly crumb the bread (bagels are great, but any bread will do - just make sure you use quality bread that's a day old).
Mix together the breads, garlic, rosemary, butter, pinenuts and chopped bacon. Blend with your hands or a small blender.
Have the racks of lamb well trimmed. Press half the mixture on to the meaty side of each rack.
Place on a high rack over a baking dish. Beside the lamb place 4 tomatoes.
Roast at 200ºC for 25-30 minutes, 35 minutes if you like your lamb well-done. Remove from the oven and set aside while you make the olive and tomato sauce.
Peel the tomatoes and place the squashy pulp into a saucepan. Squash well with a wooden spoon or a masher. Remove any chunky core pieces. Add the stock, rosemary and olives and boil rapidly for 5 minutes. Season well with salt and pepper and if you like, add a pinch of sugar. This helps remove the sharpness from those under-ripe hothouse tomatoes.
Carve each loin in half and serve with Tomato and Olive Sauce and the Roasted Artichoke and Potato Hash.
Roasted artichokes and potato hash
Wash and dry the potatoes. Cut into large 3cm chunks. Peel and cut the onions into eighths. Toss the onions and potatoes in the oil and salt in a roasting dish.
Cook at 200ºC for about 30-40 minutes until the onions are well browned and the potatoes cooked. Toss regularly.
Quarter the artichokes and slice the red peppers or tomatoes. Add the potatoes and return to the oven for 5 minutes to heat through. Season well with pepper, marjoram and rosemary.