Add to Cookbook

Pineapple sweet and sour pork braise
30 minutes
in the slow cooker: low 5-7 hours, high 3-4 hours, plus extra 30 minutes
8-10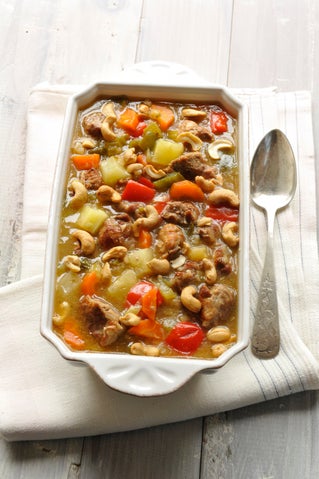 A slow-cooking twist on a stir-fry classic.
Ingredients
1.25 kilogram boneless lean pork for casseroling
1 leek, trimmed
2-3 carrots, peeled and sliced
2-3 stalks celery, peeled and sliced
1 red capsicum, diced
1 green capsicum, diced
1 tablespoon minced garlic
1 tablespoon minced ginger
440 gram can crushed pineapple
¼ cup brown sugar
1 cup water or chicken stock
¼ cup cider or white wine vinegar
2 tablespoons cornflour
Method
Turn the slow cooker on to low to pre-warm while gathering and preparing the ingredients.
Cut the pork into chunky 3-cm sized pieces. Cut the leek into thick slices and wash to remove any grit caught between the layers. Drain well.
Brown the pork pieces well in a dash of oil in a hot frying-pan. This will be best done in several batches.
Into the pre-warmed slow cooker put the pork, leek, carrots, celery, red and green capsicum, garlic, ginger, pinapple and juice, sugar, water or stock and vinegar. Stir to mix evenly and cover with the lid.
Cook on low for 5-7 hours or on high for 3-4 hours.
Mix the cornflour with a little water to make a smooth paste, about the consistency of pouring cream, and stir into the pork. Cover and cook a further 30 minutes on high.
Serve the pork braise with steamed rice, garnished with cashews if wished.
Cooks Tips
Variations: - Add a small can of well-drained pineapple chunks before serving. - Stir in 4-5 finely chopped spring onions before serving. - Add ¼ cup tomato paste with the vegetables. - Add ½ cup sliced dried apricots. - Use boneless chicken thigh portions in place of pork. Cut the chicken thigh portions into thirds.