Add to Cookbook

Pineapple And Melon Fruit Salad
10 minutes
5 minutes
10 minutes
4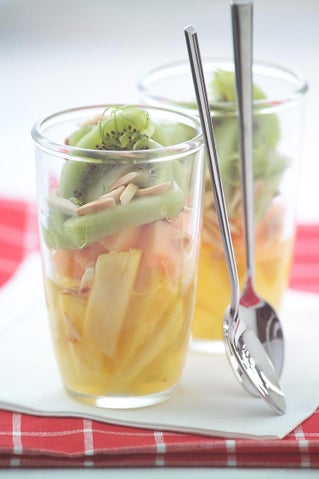 This dessert is an intriguing combination of sweet and spicy, and it's really quick and easy to make.
Ingredients
5-6 cardamom pods (see Cook's Tips)
2 tblsp lime or lemon juice
1 cup water
¼ cup sugar
1 cinnamon stick (see Cook's Tip)
½ pineapple (preferably golden)
½ rock or honeydew melon
2-3 kiwifruit
grated rind one large lime or one small lemon
¼ cup toasted slivered almonds, optional
Method
Place the cardamom pods, lime or lemon juice, water, sugar and cinnamon stick in a small saucepan and stir over a medium heat until the sugar dissolves. Simmer very gently for 3-4 minutes until the flavours infuse. Cool.
Cut away the pineapple skin and cut into 1cm thick slices. Cut these into wedges. Peel the rockmelon and scoop out the seeds. Dice the flesh evenly. Peel the kiwifruit and cut into thin wedges. Place the fruit in a bowl with the lime or lemon rind and toss with the syrup. Stand for 10 minutes to allow the flavours to mingle a little. Serve in tall glasses garnished with the almonds if using.
Cooks Tips
- In place of whole cardamom pods use, ½ tsp cardamom seeds or about ¼-½ tsp ground cardamom.
- In place of a Cinnamon stick use ¼-½ tsp ground cinnamon
- Golden pineapples are deliciously sweet and smaller than the normal pineapple. Look for them when shopping as they are less astringent when used in desserts like this.