Add to Cookbook

Pina colada ice-cream
20 minutes, freezing time overnight
Makes 1 litre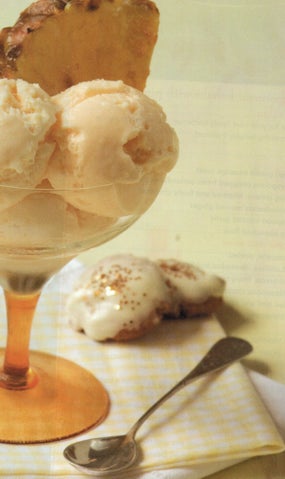 A refreshing take on the famous cocktail and idea for a special summer dessert.
Ingredients
½ fresh pineapple, peeled
6 egg yolks
1 cup caster sugar
1 cup coconut milk or cream
1 cup cream
2 tablespoons rum
Method
Cut the pineapple into chunks and puree in a food processor or blender until very smooth. Bring to the boil in a saucepan and simmer one minute, cool and chill.
In a bowl, blend the egg yolks with half the sugar, then whisk until very light and thick.
Stir the remaining sugar into the coconut milk or cream and cream then bring to scalding point either in a saucepan or in the microwave. Slowly add the hot cream into the egg yolks, stirring continuously and being careful not too add it too fash as you will scramble the eggs.
Place the mixture into the top of a double saucepan or a large heatproof bowl and stir over a saucepan of simmering water until the mixture thickens and coats the back of a spoon.
Remove from the heat and pour into a cool clean bowl to arrest any further cooking. Cool and refrigerate until cold.
Mix the pineapple puree and rum into the cooled mixture. Either freeze in an ice cream machine, following the manufacturer's instructions or pour into a large lidded freezer-proof container and freeze for 6 hours. Beat the mixture with a whisk or electric beater and return to the freezer. Repeat once more before freezing for good.