Add to Cookbook

Pesto and ham muffins
15 minutes
18-20 minutes
Makes 12 standard muffins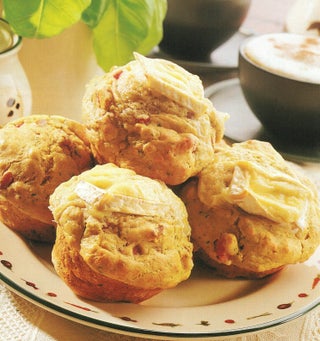 These muffins are perfect with a chilled glass of white wine on any summer's afternoon, or with a coffee and grilled bacon and tomato for brunch.
Ingredients
2 cups flour
2 teaspoons baking powder
1 teaspoon baking soda
½ teaspoon white pepper
1 ham steak, finely diced
½ cup pine nuts, toasted, optional
1 cup plain unsweetened yoghurt
1 cup milk
¼ cup oil or melted butter
2 eggs
¼ cup basil pesto
50 grams Brie or Camembert
Method
Place the oven rack in the centre of the oven. Preheat the oven to 220ºC. Grease 12 standard muffin cups or line with paper cases.
In a large bowl, sift the flour, baking powder, baking soda and white pepper. Stir through the diced ham and pine nuts (if using). Make a well in the cetnre.
In a jug, beat together the yoghurt, milk, oil or melted butter, eggs and pesto. Pour into the well and stir together gently with a slotted spoon.
Divide the mixture evenly among the prepared muffin cups. Cut the cheese into 12 thin slices and place a piece on top of each muffin.
Bake in the preheated oven for 18-20 minutes until well risen, golden and cooked. Cool in the tin for 2-3 minutes before serving.
Basil pesto
In a food processor put 50 grams of basil leaves (no stems), 2 peeled cloves garlic, ½ cup pinenuts (I like them slightly toasted), ¼ cup grated Parmesan cheese, ½ teaspoon salt and process until well chopped. With the motor running gradually pour ¾ cup fruity extra virgin olive oil down the feed tube to make a smooth paste. Store in an airtight container and use within 2 months.
Cooks Tips
- Use sun-dried tomato pesto in place of basil pesto. - Use just under 1 cup of finely diced smoked chicken in place of the ham.