Add to Cookbook

Perfect Mashed Spuds with Roasted Garlic
10 minutes
45 minutes
4-5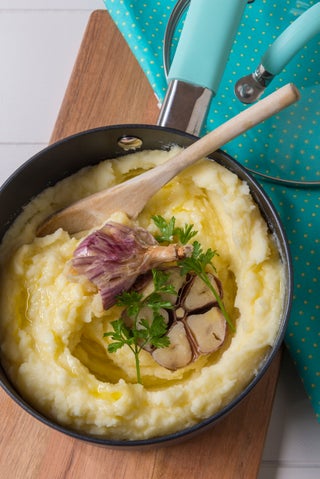 Mashed spuds, smooth, buttery and creamy are one of life's simply pleasures. Starchy potatoes are needed to make the best mashed spuds; waxy potatoes turn gluey. Agria potatoes are the most popular variety at present for mashing. Mashed potatoes can be jazzed up by adding cheese, chopped fresh parsley, a little grated onion or as in this case, the sweet garlicky pulp from a roasted bulb of garlic.
Ingredients
1 bulb garlic
600-750 grams starchy potaoes, peeled
2-3 tablespoons butter
1/4 cup cream or milk
salt and pepper to season
Method
Place the garlic bulb in a square of foil and drizzle with a little oil. Wrap up to enclose firmly. Bake in a 180°C oven for 35-40 minutes or until a skewer can easily be inserted into the centre of the garlic. Set aside.
Cut the potatoes into even-sized pieces and cook in boiling salted water for around 12-15 minutes until tender. Do not over cook as the potatoes will take up the water and become quite soggy. Drain well.
Return the saucepan to a low heat and add the butter and cream or milk and mash well. Finish by beating the potatoes well with a wooden spoon - they will turn light and fluffy.
Cut the garlic bulb in half crosswise and squeeze out the cooked garlic pulp. Add as mush as you wish to the potatoes, stirring to mix well. Season with salt and pepper to taste.
Cooks Tips
Garlic can be roasted and kept in a refrigerator and used as required. Keep well wrapped in the foil in which it is cooked and then place in an airtight container. It can also, once cooked, be frozen either whole or the cooked pulp from the garlic.
Mashed potatoes can also be frozen. I find the best way to do this is to place scoops on a baking paper-lined tray, and once frozen, transfer the portions to a sealable bag. Individual portions can then be reheated in the microwave as and when required.
An average serving of potato per person is 150 grams.