Add to Cookbook

Peppered venison casserole
15 minutes
Wild venison 6 hours, Farmed venison 2 hours
8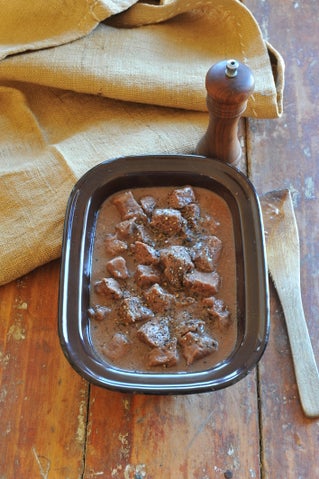 Shirley maintains that wild venison needs pepper - freshly ground black pepper and plenty of it - and then slow cooking to ensure that it softens to a melt-in-the-mouth texture. Allow all day, she tells me. But for those of us who can only buy farmed venison (cervena), cooking time will be very much reduced.
Ingredients
2 kilograms venison, for casseroling
1 tablespoon freshly ground black pepper
1 dessertspoon green herb stock powder
about 1 tablespoon flour
Method
Preheat the oven to 140ºC.
Cut the venison into 3-cm pieces and place in a large casserole - one where the venison is only 1-2 layers deep. Sprinkle over the pepper and stock powder and season well with salt.
Pour in sufficient cold water to just cover the venison, then cover securely with the lid or with foil.
Bake in the preheted oven, allowing 5-6 hours for wild venison or 1½ hours for farmed venison.
Mix the flour together with sufficient water to make a smooth paste and stir into the sauce. Cover and return to a 180ºC for 30-40 minutes of cooking time until the sauce has thickened. Season with addiitonal pepper, if wished. Serve with plenty of creamy mashed spuds.
Cooks Tips
- If you like a browner casserole, add a few drops of gravy browning to the sauce when thickening, or brown the meat in a dash of oil over a high heat before cooking. - Add a diced, well-browned onion and a teaspoon of minced garlic, if wished. - Rather than using water, try red wine - something gutsy like a Cabernet for wild venison or a softer wine like Pinot Noir for farmed venison.