Add to Cookbook

Peppered Beef And Spinach Curry
15 to 20 minutes
20 to 25 minutes
15 to 30 minutes
5-6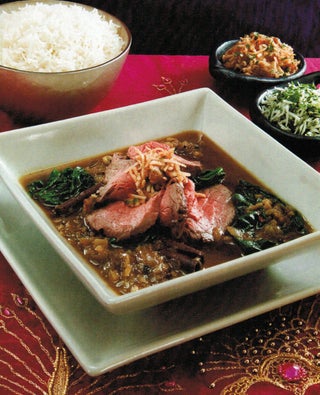 This is a curry with panache. Beef fillet, seasoned, marinated and poached in the curry sauce is a fabulous twist on more traditional beef curries.
Ingredients
Marinade
2 tsp crushed ginger
1 tsp crushed garlic
1 tsp minced red chilli
1 tsp ground black pepper
1 tblsp oil
Curry
1 large onion, peeled and coarsley chopped
2-3cm piece ginger, peeled and sliced
3-4 cloves garlic, peeled
3 bay leaves
10 cardamom pods, crushed
1 tsp whole cloves
2 cinnamon sticks
2 cups water or beef stock
1½ tsp salt
1 tblsp ground coriander
1 tsp ground cumin
½ tsp garam masala and 250 gram packet frozen, chopped spinach, thawed and drained
Method
Tie the beef fillet with string to ensure the meat keeps a good shape during cooking.
In a small bowl, mix together the marinade ingredients and rub firmly into the beef. Cover and leave to marinate for 15-30 minutes. Heat a dash of oil in a depp frying pan with a lid and quickly sear the beef on all sides. Set aside.
Heat a further dash of oil in the frying pan and add the onion, ginger, garlic, bay leaves, cardamom pods, whole cloves and cinnamon sticks. Cook, stirring, for 5-7 minutes until the onions begin to soften and the mixture is fragrant.
Add the beef to the pan with the water or stock, salt, coriander and cumin. Stir to even out the ingredients and cover. Simmer gently uncovered for 10 minutes until the sauce has reduced and thickened. Stir in the spinach and heat through. Remove the string from the beef, slice finely and serve in the curry sauce.
Cooks Tips
When buying beef fillet, choose a piece of meat from the centre. This piece will have an even thickness throughout, making cooking easier.
The beef can be marinated longer, but you will need to cover and refrigerate it. Remove it from the fridge a good 30-40 minutes before cooking to allow the meat to come to room temperature before it hits the pan.