Add to Cookbook

Pecan, cherry 'n' chocolate chip slice
15 minutes
40 minutes
Makes 30 pieces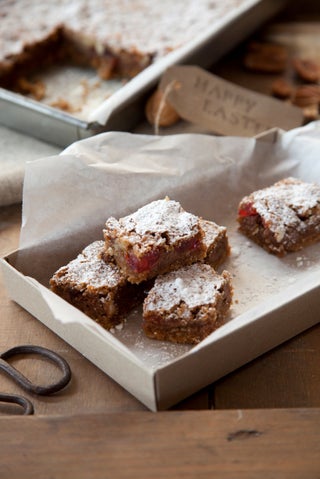 Dangerously moreish!
Ingredients
250 gram packet plain wheat digestive biscuits
¼ cup rolled oats
100 grams butter, melted
1½ cups brown sugar
¾ cup chopped pecans
¼ cup chopped glace cherries
½ cup chocolate chips
¼ teaspoon baking powder
1 teaspoon vanilla essence
2 eggs, lightly beaten
Method
Preheat the oven to 180ºC. Grease and line a 20cm x 24-26cm slice tin.
Place the biscuits in a sealable plastic bag and roll with a rolling pin to form fine crumbs. Alternatively, place in a food processor and pulse.
Mix 1¾ cups of biscuit crumbs with the oats and butter to form moist crumbs. Press firmly into the base of the prepared tin.
Bake in the preheated oven for 15-18 minutes or until lightly browned.
While the base is cooking, mix the remaining crumbs (about ½ cup) with the brown sugar, pecans, glace cherries, chocolate chips, baking powder, vanilla essence and eggs.
Spread over hot baked crust and return to the oven for a further 20 minutes. Cool completely before dusting with icing sugar or topping with a favourite chocolate icing. Serve in small squares.