Add to Cookbook

Pears in red wine
5 minutes
15 minutes, resting time 10 minutes
4-6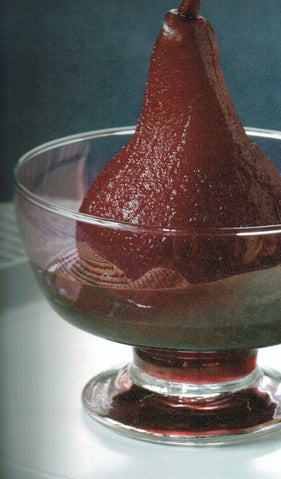 You can use this basic recipe to cook peaches and nectarines. Reduce cooking time by about 4 minutes for softer stone fruit.
Ingredients
1 cup sugar
1½ cups red wine
6 ripe pears, peeled
1-2 cinnamon sticks or ½ teaspoon ground cinnamon
1 orange, rind and juice
Method
Combine the sugar and wine in the pressure cooker and cook uncovered, stirring occasionally until the sugar dissolves. Add the pears, cinnamon and orange rind and juice.
Close and lock the lid. Bring to low pressure over a high heat. Reduce heat to stabilise pressure on low and cook for 15 minutes.
Turn the heat off and leave the pressure cooker to stand for 10 minutes or until the cooking indicator has completely sunk back. Give the cooker a good shake before removing the lid to release any steam.
If time allows, transfer the pears to a lidded container, cover, cool and refrigerate overnight. The wine will permeate the pears and colour them deep burgundy. Serve with whipped cream flavoured with orange rind.