Add to Cookbook

Peach Or Apricot Coconut Upside-down Muffins
15 minutes
25 minutes
Makes 12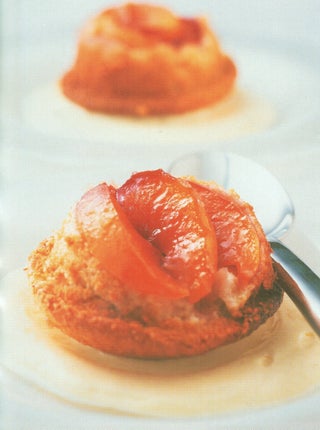 Ingredients
2 tblsp caster sugar
3-4 firm ripe peaches or apricots, cut into small wedges
2½ cups sweet muffin mix
¼ cup dessicated coconut
1 cup coconut cream
Method
Line the base of 12 muffin tins with discs of baking paper and lightly grease the sides of the tins. Sprinkle ½ teaspoon caster sugar on each paper base and arrange 2-3 wedges of fruit on the sugar.
In a bowl, place sweet muffin mix, desiccated coconut and coconut cream, stir to combine. Spoon the mixture evenly over the fruit.
Bake at 190ºC for 20-25 minutes, or until a skewer inserted comes out clean. Turn out and serve warm with cream or custard.
Cooks Tips
Use any seasonal fruit such as plums, apples, nectarines and pears for a quick and delicious pudding.