Add to Cookbook

Peach and Preserved Lemon Chutney
Ready in 2 Hours
Makes 4 x 350 gram jars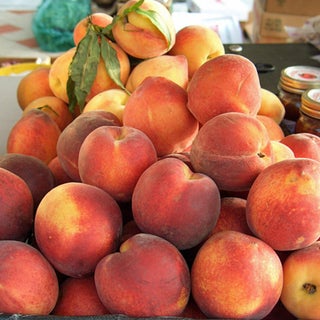 Ready in: 2 hours Makes 4 x 350 gram jars
Ingredients
1 preserved lemon rind, finely chopped
1 kilogram peaches
1 onion, peeled and chopped
4 cloves garlic, crushed and peeled
5cm piece ginger, peeled
2 long mild red chillies, deseeded
1 tablespoon coriander seeds
100 grams dried fruit (sultanas, dired peaches, pears, dates)
500 grams sugar
750ml white wine vinegar
Method
Wash the preserved lemon and remove the central soft pulpy fruit. Dice or mince the lemon rind and place in a large jug or bowl of water. Set aside.
Toast the coriander seeds in a dry pan until lightly browned. Cool before crushing with the base of a saucepan. Grate the ginger and chop the garlic and chillies finely.
Halve the peaches, remove the stones and dice the flesh roughly. Peel and chop the onions and finely dice the dried fruit.
Put all the ingredients, except the lemon rind, into a large preserving pan and bring slowly to a simmer stirring until the sugar has dissolved. Once dissolved, bring to the boil and boil steadily, stirring regularly for 1- 1½ hours or until the mixture becomes thick and pulpy. Skim off any scum as it rises. Add the well drained lemon to the chutney at the end of the cooking time, boiling for about 5 minutes after adding.
Remove from the heat and allow the bubbles to subside. Bottle into hot, dry sterilized jars. Cover with a clean towel and seal and label when cold.