Add to Cookbook

Peach and boiling bacon hot pot
30 minutes, soaking time overnight
in the slow cooker: low 5-7 hours, high 3-4 hours, plus extra 20 minutes
6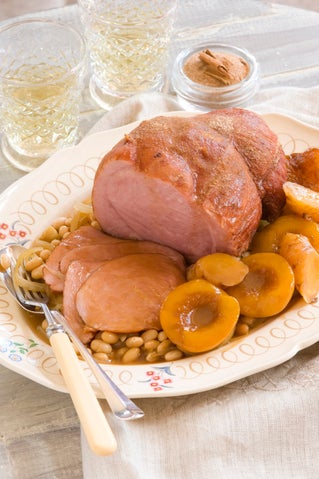 A scrumptious combination of sweet, savoury and fruity flavours.
Ingredients
1 cup navy beans
1 onion, peeled and sliced
1 cup chicken stock
¼ cup golden or maple syrup
¼ cup whisky, preferably Boubon
2 teaspoons prepared mustard
1-1.25 kilogram piece boiling bacon
500-750 grams yams, washed
1 tablespoon cinnamon sugar
400 gram can peach halves, well drained
Method
Place the navy beans in a large bowl and cover with 3-4 times the amount of water and leave overnight.
Turn the slow cooker on to low to pre-warm while gathering and preparing the ingredients.
Drain the beans well and place in a saucepan, cover with fresh water and boil for 20 minutes. Drain well.
Scatter the beans into the pre-warmed slow cooker with the onion, stock, golden or maple syrup, whisky and mustard and stir to mix evenly. Sit the bacon on top and scatter the yams around the side. Sprinkle with half the cinnamon sugar and cover with the lid.
Cook on low for 5-7 hours or on high for 3-4 hours, or until the beans and yams are tender.
Heat a dash of butter in a frying-pan and brown the peaches, sprinkle with the remaining cinnamon sugar as they brown. Add these to the slow cooker, cover and cook a further 20 minutes on high.
Serve the bacon sliced with a heavy portion of the beans, yams and peaches.
Cooks Tips
When measuring heavy syrups, such as honey, golden or maple syrup, heat the measuring spoon in a jug of hot watr. The syrup will fall easily off the spoon. Don't forget to level the syrup off once in the spoon to ensure the correct measure. Variation - Use baby lima beans in place of navy beans. - Add 1 tablespoon minced ginger. - Stir 1-2 tablespoons balsamic vinegar into the beans and yams before serving for a sweet and sour finish. - Use chunkily cut peeled kumara or pumpkin in place of the yams.