Add to Cookbook

Pasta with walnut paste and pancetta
10 minutes
12 minutes
Serves 4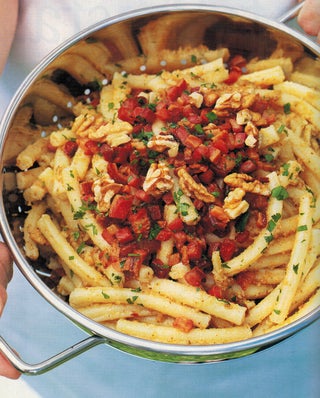 Toasted walnuts and smoky bacon or pancetta make a great sauce for an easy pasta meal.
Ingredients
1 cup walnut pieces
1 teaspoon minced fresh garlic
1 green chilli, deseeded (optional)
½ cup grated parmesan cheese
1/4 cup olive oil
150 grams sliced pancetta or bacon, diced (see Cook's Tip)
2-4 tablespoons very finely chopped parsley
400-500 grams pasta shapes
Method
Toast the walnuts in a 180°C oven for 10 minutes or until lightly golden. Cool well.
In a food processor put the walnuts, garlic and chilli and process until finely chopped. With the motor running, gradually pour the olive oil down the feed tube to form a smooth paste. Pulse in the cheese and season with salt and pepper.
Cook the pancetta or bacon in a frying pan until crisp . Set aside.
Cook the pasta in boiling salted water for 10-12 minutes until al-dente. Drain well and return to the pan. Toss through the walnut paste, pancetta or bacon and parsley. Serve immediately.
Cooks Tips
Pancetta is a special cured bacon from the belly of the pig and it is now pretty much available in all good supermarkets. Bacon is a good alternative.