Add to Cookbook

Pasta With Cheats Rouille And Garlic Prawns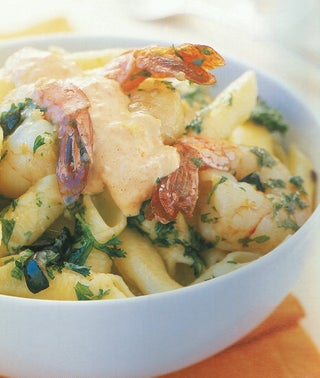 Prepare the cheats rouille dressing in advance to let the flavours infuse.
Ingredients
1 red pepper, roasted and peeled
3 teaspoons minced fresh garlic
4-5 strands saffron
½ cup very thick, good quality mayonnaise
4-6 ttablespoons virgin olive oil
24 shelled green prawns
¼ cup chopped black olives (optional)
1 cup coarsely chopped parsley
350 grams dried penne pasta
½ cup finely grated parmesan cheese
500 grams shelled prawns
Method
Place the pepper into a food processor with 1 tsp of the garlic, saffron and mayonnaise and process until smooth. Stand 30 minutes before using to allow the saffron flavour to evolve.
Cook the pasta in boiling salted water for 10-12 minutes or until al-dente. Drain.
Heat the oil in a frying pan and add the prawns, remaining garlic and olives and when the prawns are just cooked and smelling fragrant. Add the parsley and season with salt and pepper if wished.
Toss the prawns and cheese through the pasta and serve in deep bowls topped with a good dollop of the rouille.