Add to Cookbook

Parmesan waffles
10 minutes
10 minutes
Makes 4 whole waffles (20 wedges)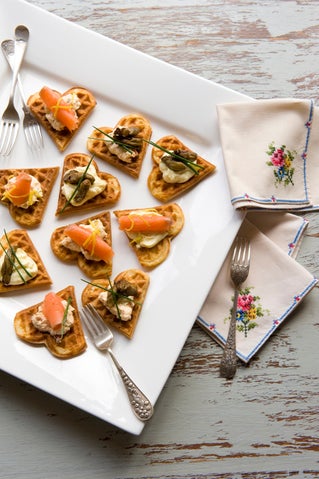 Little heart-shaped savoury waffles make an easy and great-looking base for nibbles.
Ingredients
50 grams butter
1 cup self-raising flour
½ cup grated Parmesan
1 egg
1 cup milk
tomato and chive whipped feta or lemon creme fraiche & smoked oysters (see recipes on our website)
Method
Melt the butter in a frying pan until nut-brown in colour. Remove from the heat and pour into a jug or bowl to arrest any further browning.
Sift the flour into a bowl, stir in the cheese and make a well in the centre.
Beat the egg and milk togethe and add to the well, stirring with a wooden spoon to make a smooth batter. Stir in the butter.
Heat a waffle-iron and cook large quarter-cupfuls of mixture at a time. If you do not have a waffle iron, make pancakes, cooking the mixture in batches in a greased frying-pan over a moderate heat. Turn the pancakes when bubbles appear on the top and burst.
Place the waffles or pancakes onto a cake rack to cool.
To serve, cut into wedges and place on a platter and top with tomato and chive whipped feta or lemon creme fraiche and smoked oysters.
Cooks Tips
- To freeze the waffles, prepare and cool. Place the waffles in a single layer on a tray, cover and freeze. Once frozen, transfer to a snap-lock bag, placing a sheet of baking paper or plastic wrap between each waffle. Press out as much air as possible to prevent any freezer burn and return to the freezer. To defrost, place each waffle on a tray, cover and allow to defrost at room temperature. Cut into wedges and reheat in a 190ºC oven for 3-4 minutes or until warm.