Add to Cookbook

Parmesan Lamb Chops With Balsamic Glazed Pine Nuts
15 minutes
10 minutes
10 minutes
4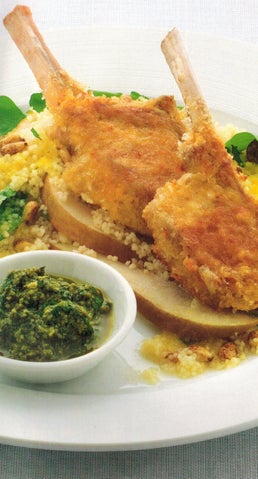 These are so yummy and easy to prepare.
Ingredients
8 Frenched lamb cutlets
2 tblsp seasoned flour
1 cup panko or fresh breadcrumbs
½ cup finely grated Parmesan cheese
2 tblsp water
1 egg, lightly beated
¼ cup basil pesto
¼ cup finely chopped fresh mint
Method
Toss the lamb cutlets with the flour. Mix together the panko crumbs and parmesan cheese. Mix the water and beaten egg together, then dip the floured cutlets in this mixture, then in the parmesan mixture to coat evenly. Refrigerate for 10 minutes.
Heat a dash of oil in a frying pan and cook the lamb over a medium heat for 3 minutes each side, until golden and crispy. Drain on absorbent paper. Mix the pesto with the mint. Serve the lamb cutlets with the pesto and the balsamic-glazed pine nuts, couscous tossed with rocket leaves and pear slices drizzled with olive oil.
Balsamic-glazed pine nuts
Toss ½ cup of pine nuts in a little oil and pan-fry over a low heat until just becoming golden. Add 4-6 tblsp balsamic vinegar and stir regularly until the vinegar has evaporated and the pine nuts are golden brown.