Add to Cookbook

Paprika lamb shanks with rosemary-glazed pears
40 minutes
in slow cooker low 7-9 hours, high 4-6 hours, 2 hours in the oven
6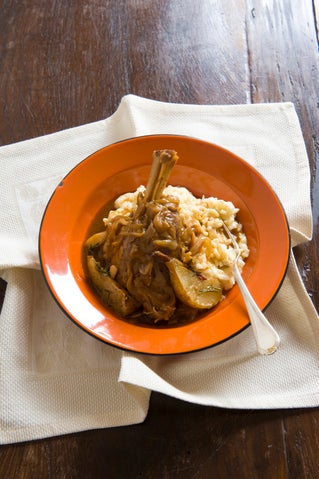 Lamb shanks are a timeless favourite. Simmered in a slow cooker, their flavour will be meltingly delicious.
Ingredients
6 lamb shanks
2 onions, peeled and thickly sliced
6-8 cloves garlic, crushed, peeled and halved
1 tablespoon paprika
1 tablespoon flour
½ cup sweet-style sherry
1 cup chicken stock or water
rosemary-glazed pears
2-3 pears
25 grams butter
2 tablespoons fresh rosemary leaves
2 tablespoons brown sugar
Method
Preheat the slow cooker on hgh for 20 minutes before adding the lamb and other ingredients.
Brown the lamb shanks in a dash of oil in a hot frying-pan over a high heat until well browned on all sides. This can take some time as the lamb shanks have quite an uneven shape. Transfer to the slow cooker.
Add the onions to the pan and cook in the residual oil for about 8 minutes over a moderate heat to brown lightly without burning. Add the garlic and toss.
Add the paprika and flour and cook for 1 minute before stirring in the sherry and stock or water. Bring to the boil then pour over the lamb shanks. Cover and cook on high for 4 hours.
Serve with the rosemary-glazed pears.
Rosemary-glazed pears
Cut the pears into sixths and core, if wished.
Brown the pears evenly in the butter in a moderately hot frying-pan on all sides.
Add the rosemary and sugar and cook for 5-8 minutes, turning regularly until the pears are glazed.
Cooks Tips
Variations - For a smoky flavour, use smoked paprika. - Add 4-8 rashers of diced bacon. Brown with the onions. - Add 1-2 spicy chorizo sausages, sliced or diced. Brown first to release the oil and use the oil for browning the lamb.