Add to Cookbook

Paprika Fish Kebabs With Tomato And Olive Salad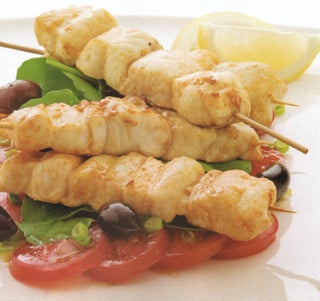 Ingredients
600 grams lemon fish
¼ cup olive oil
2 tsp minced garlic
½ tsp paprika (smoked paprika is nice here)
4-6 juicy roma tomatoes, sliced
4 spring onions, sliced
10-12 black olives, sliced
a couple of cups of rocket
½ cup of your favourite vinaigrette
Method
Cut lemon fish into large 3cm pieces and toss wtih olive oil, garlic, paprika and a good seasoning of salt and pepper. Toss well and leave to marinate for 20 minutes.
Thread the fish cubes onto well-soaked bamboo skewers. Pan-fry or barbecue over a moderate heat to allow the fish to cook with the outside becoming lightly browned.
For the salad, combine tomatoes with spring onions, black olives, a couple of cups of rocket and vinaigrette.
Cooks Tips
Lemon fish is the name given to shark to make it sound more palatable. But don't be put off - lemon fish is an excellent source of protein, a good source of Omega 3 and, because the fillets are bone-free, is highly sought after by fish and chip shops.