Add to Cookbook

Oven-roasted slow-cooked belly pork
30 minutes, marinating time - overnight
low 5-6 hours, high 3-4 hours
6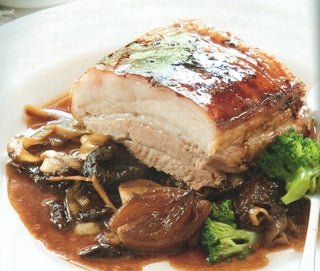 Start the preparation for this dish a couple of days in advance so that you can marinate the pork, then cook it slowly before roasting to create a special Chinese-inspired dish.
Ingredients
1 kilogram piece pork belly, skin removed
½ cup light soy sauce
½ cup water or chicken stock
¼ cup dry sherry
¼ cup brown sugar
½ teaspoon Chinese five spice
4 cloves garlic, peeled and sliced
1 teaspoon minced ginger
8 baby onions, peeled and halved
1 red-skinned apple, peeled and thinly sliced
1½ cups prunes, halved
Method
Place the pork into a large, sealable plastic bag or into a large dish. Add the soy sauce, stock, sherry, brown sugar, spice, garlic and ginger and seal. Turn to coat the pork evenly and refrigerate overnight.
Into the slow cooker put the onions, apple slices and prunes. Sit the pork and the marinade ingredients on top.
Cook on low for 5-6 hours or on high for 3-4 hours or until the pork is tender.
Preheat the oven to 200ºC fan bake. About 40 minutes before serving, place the pork into the oven and cook for 30 minutes or until very hot and golden. Allow meat to rest for 5 minutes before carving thinly or cutting into thick individual-sized portions.
Serve the pork sliced on the hot apple and onion mixture and accompanied with your favourite greens. Garnish with toasted walnuts if wished.