Add to Cookbook

Oregano and smoked fish patties
40 minutes (includes resting time)
10 minutes
4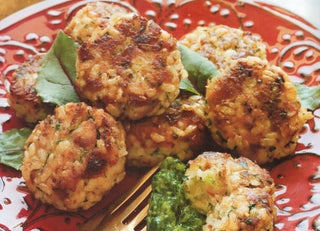 Got leftover cooked rice? Well, go beyond fried rice and instead make these yummy patties. They are pretty much effortless to prepare, you can add flavours of your own preference and for a nutty taste and texture make them with brown rice. Slather them with good ol' tartare sauce for an easy and reasonably healthful, made-in-a-jiffy family meal.
Ingredients
350 grams boneless smoked fish
2 cups cooked brown rice, cold
½ cup fresh breadcrumbs
½ cup grated parmesan or cheddar cheese
4 spring onions, trimmed and finely chopped
2 eggs beaten
2 tablespoons chopped semi-dried tomatoes
2 teaspoons minced fresh garlic
2 tablespoons chopped fresh parsley
2-3 tablespoons chopped fresh oregano or 1 teaspoon dried oregano
Method
Into a large bowl put the fish, rice, breadcrumbs, cheese, spring onions, eggs, tomatoes, garlic, parsley and oregano. Mix well and season as wished with salt and pepper.
With damp hands, take half a cupful of mixture at a time and mould into patties. Cover and refrigerate for 30 minutes before cooking (this allows the patties time to 'set' so they will not fall to pieces when being cooked).
Heat a dash of oil or a decent knob of butter in a frying pan and pan-fry the patties over a moderate heat for 3-4 minutes each side until golden brown and hot through to the centre. Serve on a platter with tartare sauce, grilled lemon wedges and capers.
Cooks Tips
- In place of smoked fish, use lean beef, lamb, chicken or pork mince and allow 2-3 minutes' extra cooking time. - If buying smoked fish with the bone, you will need around 500 grams to yield 350 grams of flaked meat.