Add to Cookbook

Oregano And Lemon Bbq Lamb
10 minutes
11/4 to 11/2 hours
3-4 hours
6-8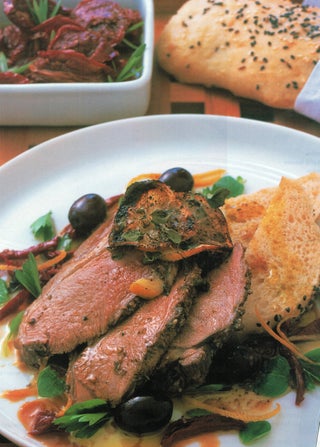 Serve this Greek-influenced butterflied leg of lamb finely sliced, either hot or warm, accompanied by olives, sundried tomatoes, sliced bread and drizzled with olive oil.
Ingredients
¼ cup well-packed oregano leaves
grated rind 2 lemons
¼ cup lemon juice
½ cup virgin olive oil
4 cloves garlic, crushed and peeled
1 tsp ground cinnamon
1 tsp salt
1 tsp ground black pepper
1 butterflied leg lamb
Method
Put the oregano leaves, lemon rind, lemon juice, olive oil, garlic and cinnamon and salt and pepper into a mini food mill and process until smooth. Alternatively chop the herbs and garlic finely and mix with the other ingredients.
Place the lamb skin side down on a board and spread the paste over the lamb. Cover and refrigerate for 3-4 hours. Remove from the refrigerator 30 minutes before cooking.
Fan bake the lamb at 160°C for 1 1/4 - 1 1/2 hours until the lamb is medium-well done. Stand for 10 minutes before carving and serving. Collect the meat juices from the roasting dish and serve these with the sliced lamb.
To Barbecue
Place the lamb (without marinade) neat-side down on a well-oiled hot barbecue. Cover and cook for approximately 15-20 minutes over a moderate heat until the meat is well seared. Turn over. Spread the oregano mixture on top of the lamb, cover and continue cooking over a low-moderate heat for a further 1-1 1/4 hours or until well done and tender. Stand for 10 minutes before carving.
Chicken Version
Take two chickens and cut down either side of the backbone and remove. Flatten the chickens and place on a foil-lined tray if roasting. Divide the oregano paste between the chickens, spreading some under the skin and some on top. Place the sliced lemons and herbs on top. Roast at 190 degrees Celsius for 1 1/4- 1 1/2 hours or until the chicken is cooked. Alternatively, barbecue in an enclosed barbecue, for approximately the same time. Serve, carved, on bread slices with herbs, roasted garlic, olives, sundried tomatoes and feta cheese. Drizzle with olive oil. If roasting, collect the meat juices to serve with the olive oil.