Add to Cookbook

Orange Shortbread Thins
15 minutes
15 minutes
Makes about 40 small shortbreads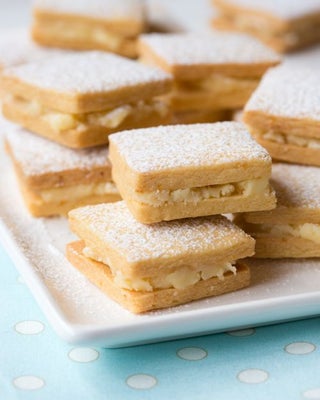 These wee shortbread morsels have to be some of the most moorish ones I make. They are a regular item in my home over spring and summer as they can turn a simple dessert into something special and liven up poached fruits with ice-cream for the family.
Ingredients
200 grams butter
½ cup caster sugar
2 tsp grated orange rind
2½ cups flour, sifted
White chocolate icing
50 grams butter, softened
50 grams white chocolate, melted and cooled
½ cup icing sugar
Method
Preheat the oven to 180ºC. Grease a baking tray or line with baking paper.
Beat the butter, sugar and orange rind together until light and creamy. This can be done in a food processor, by hand, though best results will come from a mix master.
Work the flour into the creamed mixture. Turn the dough out onto a floured board and lightly knead together.
Roll the dough out to 0.5cm thickness and cut into shapes . Place on the greased baking tray.
Bake in the prheated oven for 12-15 minutes or until lightly golden and firm. Cool on the tray for 5 minutes before transferring to a cake rack to cool. Once cool, join together with white chocolate icing. Store in an airtight container.
White chocolate icing
Beat the butter and white chocolate together until pale and fluffy. Sift the icing sugar and beat into the creamed mixture.