Add to Cookbook

Orange Blossom Water Butter Biscuits
15 minutes
12-15 minutes
Makes 30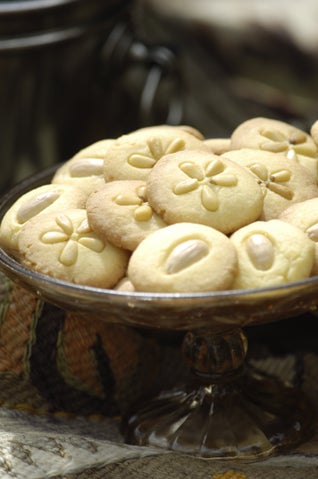 Such a delicate biscuit recipe, these are a perfect foil to the sweetness of the apricots in the saffron and spice poached dried apricots dessert and the richness of the cardamom creamed rice dessert.
Ingredients
250 grams butter, softened
1 cup icing sugar, sifted
grated rind one orange
1-2 tsp orange blossom water
2½ cups flour
70 gram packet blanched whole almonds or pinenuts
Method
Preheat the oven to 180ºC. Lightly grease 1-2 baking trays or line with baking paper.
Beat the butter and sugar together until very light and fluffy. Beat in the orange rind and orange blossom water.
Sift the flour and mix in gently to make a firm biscuit dough.
Roll teaspoonful into balls and place on a the prepared baking trays. Flatten the biscuits lightly with your fingers or the palm or your hand.
Arrange an almond or pinenuts in the shape of a flower, on top of each biscuit.
Bake in the preheated oven for 12-15 minutes or until the biscuits are beginning to colour around the edges.
Remove to a cake rack to cool. Store in an airtight container.
Cooks Tips
Orange blossom water is prepared from a distillation of the orange flours (blossom) of bitter orange trees such as the Seville orange. The oil (neroli) that rises to the top is removed leaving the fragrant water to be bottled, usually in dark coloured bottles to avoid flavour damage caused by bright sunlight.