Add to Cookbook

Orange and maple syrup-glazed drumsticks
15 minutes
35-40 minutes
up to 1 hour
4-6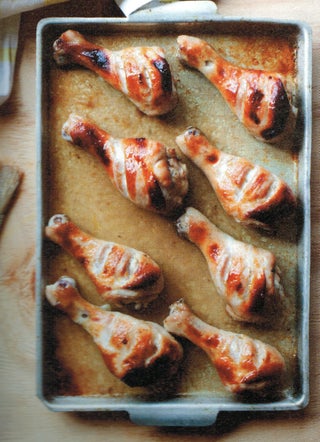 This simple marinade adds zing to a weekday standby - chicken drumsticks.
Ingredients
½ cup maple sytup
¼ cup cranberry sauce
2 tablespoons oil
grated rind 1 orange
8-10 chicken drumsticks
Method
Preheat the oven to 180ºC.
Place the maple syrup, cranberry sauce, oil, and orange rind in a shallow dish or sealable bag.
Score each drumstick in 2-3 places and place in the marinade. Cover and marinate for up to 1 hour in the refrigerator.
Remove the chicken from the marinade, place in a shallow ovenproof dish, drizzling the marinade over them.
Bake in the preheated oven for 35-40 minutes until the juices run clear and the chicken is golden brown. Serve hot or cold.
Cooks Tips
- You could use this marinade for pork slices.