Add to Cookbook

Orange And Maple Glazed Roast Chicken With Wild Rice And Cranberry Stuffing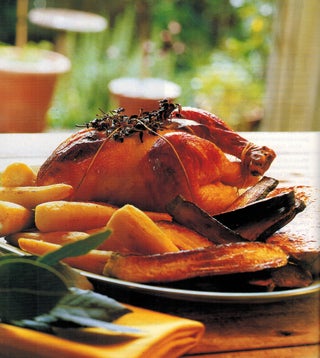 Rice makes a quick stuffing for a roast chicken and it is easy to jazz up with any number of flavours.
Ingredients
½ cup brown wild rice mix
1.5 kg whole chicken
2 spring onions, trimmed and finely chopped
1 grated rind orange
¼ cup cranberry sauce
2 tblsp chopped fresh oregano (or ½ tsp dried)
salt and pepper to season
Glaze
juice 1 orange
2 tblsp maple or golden syrup
Method
Bring about 3-4 cups salted water to the boil and sprinkle in the wild rice mix. Cook for 15 minutes only, drain and refresh in cold water to stop the cooking process.
Wash the chicken well, removing any giblets and then pat dry inside and outside with absorbent paper. (Use the neck and giblets to make stock for gravy if you like).
In a bowl mix together the rice, spring onions, orange rind, cranberry sauce and oregano. Season with salt and pepper.
Stuff the cavity of the chicken with the mixture and secure the opening with a skewer. Place the chicken on a roasting rack and brush lightly with the glaze.
Roast at 180°C for 1½-1¾ hours until the chicken is tender. Brush with the glaze throughout the cooking time. Serve with seasonal vegetables.
Glaze
Mix the orange juice and maple or golden syrup together.
Cooks Tips
- You can buy both brown and white wild rice mix rice. I used the brown version. If using white, reduce the cooking time of the rice to 5 minutes.