Add to Cookbook

Olive and sundried tomato samosas
40 minutes (includes making pastry)
10 minutes
Makes 20 samosas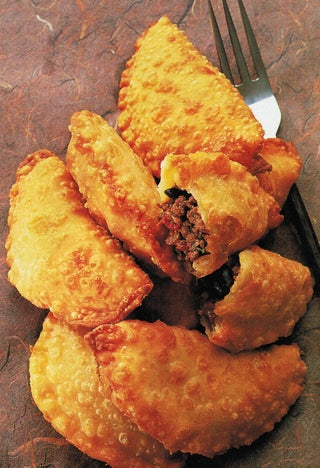 This recipe is a mix of cuisines - incorporating flavours of the Middle East with samosa pastry from India. These samosas are scrummy and are ideal as a started, served with a little yoghurt raita. Alternatively, you can serve them in a large basket and enjoy as a nibble with a drink. Because the pastry is made with yoghurt, it's particularly delicious. Light in texture, it bubbles when cooking, giving a moonlike surface texture to the samosas.
Ingredients
Pastry
3 cups flour
100 grams butter
¾ cup unsweetened plain yoghurt
Filling
2 tablespoons oil
500 grams minced lamb or beef
1 tablespoon harissa, see recipe on my website
12 sundried tomatoes, sliced
½ cup chopped olives
½ cup toasted pinenuts
¾ cup red wine
1 tablespoon cornflour
1½ cups beef stock
chopped parsley, optional
Method
Pastry
Place the flour in a food processor. Add the butter and process until the mixture resembles fine crumbs. Add almost all the yoghurt and pulse until the mixture forms a soft dough. You may need to add the remaining yoghurt.
Remove the dough and wrap in plastic wrap or baking paper and leave to rest for 30 minutes while you prepare the filling.
Filling
Heat the oil in a frying pan and when really hot, add the minced lamb or beef and brown it, breaking it up with a fork as you go.
Add the harissa and cook for one minute. Stir in the tomatoes, olives, pinenuts and red wine and cook untill the wine has almost evaporated.
Sprinkle over the cornflour and stir in. Add the beef stock and stir, cover and simmer for 15 minutes.
Add the parsley and season well with salt and pepper. Allow to cool while you get the pastry ready.
Roll the pastry out to about 2mm thickness and cut 5cm circles from it. Place a spoonful of mixture in the centre of a circle and then press the edges together firmly, pinching to close. Repeat with the remaining mixture.
Deep fry or fry in hot oil until golden and crispy. Do not have the oil too hot as it will burn the samosas before they have a chance to cook and heat through. Serve warm.
Cooks Tips
- These can be made in advance and reheated in a 180ºC oven for about 12-15 minutes before serving. Variations - If you don't have time to make the samosa pastry, use pre-rolled sheets, flaky or short pastry, or use filo. - Use minced pork and stuffed green olives in place of the lamb or beef, or even minced chicken. - Instead of making the harissa, use one tablespoon of tomato paste or sundried tomato paste, or curry paste made from one tablespoon of mild curry powder. It will alter the flavour, but will taste just fine. - Add chopped coriander and a few more shakes or dried coriander. - Add half a cup of chopped feta cheese to the cooled meat mixture before stuffing the samosa. - Use only half the meat and add brown or red lentils, about half a cup uncooked or one cup cooked.