Add to Cookbook

North African vegetable and lentil stew
20 minutes
low 6-8 hours, high 3-4 hours, plus extra 30 minutes
6-8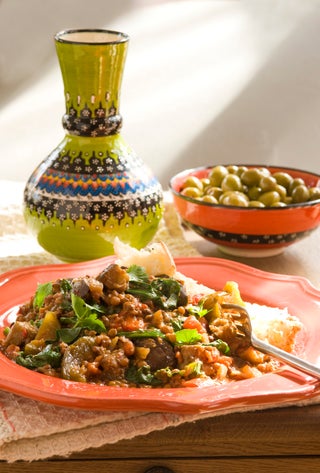 I like to serve this dish with a sharp-tasting pickled fruit on the side like sweet-spiced and pickled pears or figs. Failing this, pan-fry pear slices in a little butter until golden, drizzle with a little balsamic vinegar and serve with the stew. The berbere spice mix is essential for an authentic flavour. It is most commonly used in the cooking of Ethiopia.
Ingredients
1 large or 2 small eggplants
1 large onion, peeled and roughly chopped
2 red capsicums, diced
1 tablespoon minced garlic
1 tablespoon minced ginger
1 teaspoon minced chilli
1-2 tablespoons berbere spice mix
1 cup brown lentils
400 gram can chopped tomatoes in juice
3 cups vegetable stock or water
3-4 bunches fresh spinach
Berbere spice mix
1½ tablespoons each cumin and coriander seeds
1½ teaspoons fenugreek seeds
1 teaspoon each whole allspice berries, peppercorns, cloves and cardamom seeds
2-3 teaspoons chilli powder
1 teaspoon ground nutmeg
½ teaspoon ground cinnamon
Method
Turn the slow cooker on to low to pre-warm while gathering and preparing the ingredients.
Cut the eggplant into 1-cm thick slices and cut each slice in half.
Heat a good dash of oil in a frying-pan and cook the onion and capsicums over a moderate heat until well-browned. Stir in the garlic, ginger, chilli and spice mix and cook for a further 1-2 minutes until the ingredients are very fragrant.
Into the pre-warmed slow cooker put the eggplant, onion, capsicums, garlic, ginger, chilli, spice mix, lentils, tomatoes and stock or water. Stir as well as possible and cover with the lid.
Cook on low for 6-8 hours or on high for 3-4 hours, or until the lentils are soft. Stir once during this time if possible.
Tear the coarse stems from the spinach and rinse the leaves, shaking off any excess water. Add the leaves to the stew, stir in, cover and cook for a further 30 minutes on high.
Season well with salt and pepper and serve the lentils with sweet-spiced pickled fits or similar and garnish with coarsley chopped parsley leaves.
Berbere spice mix
Toast the whole spices in a dry hot frying-pan for 2 minutes or until lightly toasted and fragrant. Transfer to a spice grinder and cool. Add the chilli, nutmeg and cinnamon and grind until fine. Store in an airtight container.
Cooks Tips
- For extra flavour, brush the eggplant slices with oil and pan-fry until well browned on each side.