Add to Cookbook

No cook chocolate and shortbread slice
30 minutes
N/A
Makes 40-50 pieces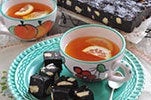 After a meal of simple fish, go all out and enjoy this rich and easy-to-make decadent chocolate treat, which is melt-in-the-mouth smooth.
Ingredients
¾ cup caster sugar
2 tablespoons water
175 grams butter
1¼ cups cocoa
2 teaspoons vanilla essence
1¾ cups ground almonds
1 whole egg
1 egg yolk
200 grams shortbread biscuits, roughly crushed
Method
Grease an 18cm square cake tin and line with baking paper.
Put the sugar and water in a saucepan, stirring over a low heat until the sugar dissolves. Set aside to cool.
Beat the butter, cocoa and vanilla essence together until smooth and gradually stir in the cooled sugar syrup, ground almonds, whole egg and egg yolk.
Once well mixed, stir in the roughly crushed shortbread biscuits.
Press into the prepared tin and refrigerate overnight. Cut into small pieces to serve as it is very rich.
Cooks Tips
Variations
- Use half ground almonds and half ground hazelnuts or walnuts.
- Add the grated rind of 1 or 2 oranges.
- Use chocolate biscuits in place of shortbread.
- Use good quality cocoa for this recipe to ensure the finest taste.